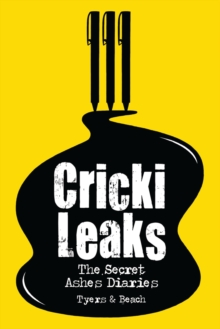 CrickiLeaks : The Secret Ashes Diaries
Hardback
Description
Cricket's greatest legends. Sport's fiercest rivalry. Wisden's fakest diaries. CrickiLeaks charges headlong onto the players' balcony and imagines 40 cricketing diaries of rare wit and invention, along with the illustrated book covers they might have inspired.
Featuring spoof journal entries drawn from throughout Ashes history, CrickiLeaks reveals for the first time the innermost thoughts of the greatest cricketers of the last 129 years. And Mitchell Johnson. CrickiLeaks includes imagined diaries from players on the most recent tour (Andrew Strauss, Ricky Ponting), diaries from the all-time greats (Shane Warne, Freddie Flintoff, Sir Ian Botham, Geoffrey Boycott, Donald Bradman, W.G.
Grace), as well as contributions from less obvious personalities. An irreverent and entertaining collection of Ashes diaries, CrickiLeaks finally lays to rest some of cricket's greatest mysteries:- What exactly was going through Gatting's mind as he faced the ball of the century?- Why did Ricky Ponting lose his rag with Ronald McDonald?- What really went on between Douglas Jardine and Daphne the Koala in Adelaide Zoo?A riotous and uniquely scurrilous addition to any cricket-lover's library.
Information
Format: Hardback
Pages: 128 pages, B&W cartoon illustrations throughout
Publisher: Bloomsbury Publishing PLC
Publication Date: 04/04/2011
Category: Humour
ISBN: 9781408152409