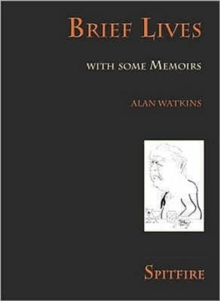 Brief Lives
Paperback
Illustrated by

"Marc"
Description
Auberon Alexander Waugh was certainly the most offensive, and probably the most industrious, journalist of "Modern Times".
In private he was of a kindly and benevolent disposition, and possessed beautiful manners, but he rarely allowed these aspects of himself to become known to his readers.
He [Philip Hope-Wallace] was a big man, well over six feet, heavy, with a splendid Roman head.
He drank a great deal. A friend once came across him in a lavatory at Broadcasting House finishing off a quarter-bottle of Gordon's gin.
Though a good broadcaster, he was a nervous one. 'When you reach my age,' he said, 'you will be doing the same.' He could be also be very rude indeed.
Tony Benn once publicly announced that he was concerned to lose the stigma of the intellectual. [Anthony] Crosland replied that, in order to lose a stigma, it was first necessary to acquire one.
This lack of recognition would not have mattered if [William] Robson had not minded about it.
But he did mind: he was hurt and felt excluded. He was not like his former colleague R. H. Tawney, who, on being offered a peerage by Ramsay MacDonald, asked what harm he had ever done the Labour Party. First published nearly a quarter of a century ago, this newly updated edition of Alan Watkins' "Brief Lives" remains an exceptional work of biography.
Eclectic, humane, smart and affectionate, Watkins' prose crackles with wit and fierce observation.
Writing in the tradition of Aubrey and Churchill, Alan Watkins celebrates the lives and achievements of his many contemporaries.
There are journalists, Paul Johnson and John Junor, Malcolm Muggeridge and Richard Ingrams, Auberon Waugh and Peregrine Worsthorne; politicians, Roy Jenkins and Michael Foot, David Steel and Ian Gilmour, Iain Macleod and Norman St John-Stevas; writers, Anthony Powell, Simon Raven, Kingsley Amis and AJP Taylor; and mavericks, Lord Beaverbrook, GE Moore, Tom Driberg and William Robson.
Finally, there is a vivid portrait of Watkins's father. "Brief Lives" is a series of brilliant essays which capture the essence of twenty-nine men whose combined achievements helped define Britain during the last century.
It's a classic.
Information
Format: Paperback
Pages: 274 pages, illustrations
Publisher: Elliott & Thompson Limited
Publication Date: 01/02/2004
Category: Biography: general
ISBN: 9781904027164
Free Home Delivery
on all orders
Pick up orders
from local bookshops