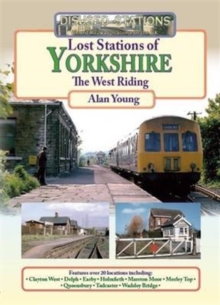 Lost Stations of Yorkshire the West Riding
Paperback
Description
In 2005 Nick Catford, a member of Subterranea Britannica, started the Disused Stations website with the aim of creating a definitive database of the UK's closed stations.
The work to complete the database is ongoing and will take many years.
To date there are 1,550 stations on the site and it is visited by thousands of people every week.This book, the fourth in the series, and the first of two parts to cover Yorkshire, has once again been compiled by Alan Young, a major contributor to the website, and is intended to serve as a stand-alone record while also acting as a companion to the Disused Stations website.
It follows roughly the same format but, as a book, will appeal to those who want to have something tangible to read and have available on their bookshelf.
With so many stations now on the website it was difficult to decide which stations should be included here.
Having started in Volume 1 with lost terminus stations in the North West, in this book we once again visit an area steeped in railway history - the North East - and visit a varied selection of lost stations. Once again they are featured in chronological order of opening date, this being an effective way of showing how the network developed, expanded and eventually contracted.Stations to be covered across the two parts will include: AddinghamApperley Bridge & RawdonArkseyArthingtonAysgarthBarnsley (Court House)Bowes Cargo Fleet Castle HowardClayton West DelphEarby Edlington for Balby (Doncaster)Eryholme Filey Holiday Camp FlamboroughHalifax (St Paul's) HolmfirthKettleness Kipling Cotes LedstonLofthouse-in-NidderdaleMarston MoorMelton Halt Millhouses & EcclesallMorley TopPenda's Way Queensbury Ravenscar Richmond RillingtonRye Hill & Burstwick Shipley & WindhillSouth Cave Springhead Halt Stepney SykehouseTadcaster ThorganbyThorp Arch (for Boston Spa) Tickhill & WadworthTollerton Wadsley Bridge
Free Home Delivery
on all orders
Pick up orders
from local bookshops
Also in the Disused Stations series