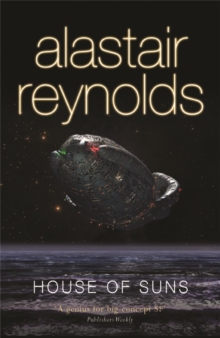 Description
A spectacular, large-scale space opera - the ultimate galaxy-spanning adventureSix million years ago, at the very dawn of the starfaring era, Abigail Gentian fractured herself into a thousand male and female clones: the shatterlings.
Sent out into the galaxy, these shatterlings have stood aloof as they document the rise and fall of countless human empires.
They meet every two hundred thousand years, to exchange news and memories of their travels with their siblings.Campion and Purslane are not only late for their thirty-second reunion, but they have brought along an amnesiac golden robot for a guest.
But the wayward shatterlings get more than the scolding they expect: they face the discovery that someone has a very serious grudge against the Gentian line, and there is a very real possibility of traitors in their midst.
The surviving shatterlings have to dodge exotic weapons while they regroup to try to solve the mystery of who is persecuting them, and why - before their ancient line is wiped out of existence, forever.
Information
Format: Paperback
Pages: 512 pages
Publisher: Orion Publishing Co
Publication Date: 12/03/2009
Category: Science fiction
ISBN: 9780575082373
Free Home Delivery
on all orders
Pick up orders
from local bookshops
Reviews
Showing 1 - 5 of 8 reviews.
Previous | Next
Review by iftyzaidi
16/06/2015
As ever, Reynolds excels when it comes to the big picture - great ideas thrown across a canvas the size of the universe and the depth of millions of years. This book has some very cool ideas - where it is flawed is in the pace and depth of the narrative. [Warning: Spoiler] For a book that throws around so many mind-expanding images and themes and is about a 'line' of clones that have made it their business to explore the galaxy for six million years, too much time is spent sitting around on one planet (which curiously enough for a planet chosen at randomn just happens to be the planet that hosts the one being able to resolve a galactic crisis.)Good, as most Reynolds is, but not his best.
Review by AlanPoulter
16/06/2015
Six million years before the main story starts, Abigail Gentian, like other humans of the period known as the Golden Hour, duplicated her clone thousands of times and sent the 'shatterlings' out into the galaxy, at sublight speed, but preserved in slow time/stasis, to explore. One thread of the book relates Abigail's early life, as she gets involved in a fantasy game called Palatial, against an opponent of her own age, who plays her 'Dark Lord' foe. The other thread, the main story, follows Purslane and Campion, two of Abigail's shatterlings, as they barter for knowledge and try to offload a difficult passenger, an aquatic being known as Dr Mennix, on their way to a re-union of the Gentian shatterlings, known collectively as the 'House of Flowers'. Chapter viewpoints alternate between the two clones, who are only identifiable when they name the other clone. After an encounter with a rogue spaceship trader, Ashtega, they rescue a Machine Person (an intelligent robot), Hesperus, who has unusual memory gaps. We learn that there is a Void where the Andromeda galaxy should be, that an earlier super-race called the Priors disppeared after strewing the galaxy with incredible devices and that the Vigilance, a massive Dyson sphere inhabited by giant mutated humans who collect information, are interested by the deposit of a memory 'trove', that Campion traded with them.The story wastes no time in kicking into high gear, as the two threads slowly combine into a complex web of crime and betrayal, based around the shadowy 'House of Suns'. The sense of of wonder never goes away, as yet more new technological wonders are unleashed, especially in the final denouement. In complete contrast, it seems as though the only thing that has not changed in six million years are people, as the adventures of Purslane and Campion are understandable in our terms. Amidst the mayhem, they are in love and have sex. While the people in it are somewhat ordinary thisnovel succeeds spectacularly in being extra-ordinary in science-fictional terms.
Review by questbird
16/06/2015
A great read, an exciting page-turner. It deals with an old and sophisticated galactic human culture -- somewhat similar to Iain M. Banks' Culture except for the interdependence on machine life. Machine life is central to the book however and like many science fiction novels, this one deals with the consequences of our attitudes to our created life. The central Machine Person character is Hesperus, who reminded me a little of Dan Simmons' John Keats cybrid in Fall of Hyperion. His friendship with the two Shatterlings who rescue him is the crux of the book.
Review by slothman
16/06/2015
In the early fourth millennium, humanity largely lives within the light-hour surrounding our own Sun, and a few wealthy tycoons take up galactic tourism: they clone themselves a thousand times (often with genetic variations, including gender), decanting their personality into each clone, and set out in a thousand ships to travel the galaxy at near-lightspeed, with plans to meet up later. As civilizations rise and fall across the galaxy, these "shatterlings" (with the assistance of technologies for suspended animation, life extension, and time dilation) see six million years pass, trading information and expertise to the worlds they visit.
The book has two parallel stories: a shorter one following the youth of Abigail Gentian, who grows up to spawn the thousand shatterlings called Gentian Line (or the House of Flowers, since all of them are named after flowers), and a larger one following the intertwined lives of two of her shatterlings, Campion and Purslane, who have broken the rules of their Line, fallen in love, and taken up traveling together. They arrive late at a scheduled reunion of the Line, fearing censure by their fellows, and discover that someone has attempted to wipe out the entire clan. Their challenge is to figure out who did it, and why— and to survive.
Reynolds does a good job of keeping the suspense high even as the action stretches over the decades and centuries of interstellar travel. The tale includes some reflections on recent events, including the fear of the Other and the erosion of morality in times of stress. The feel is very much in the New Space Opera style of his other works, but is not as dark as the tales in his Revelation Space universe.
Review by closedmouth
16/06/2015
(Reviewed March 6, 2009)Okay so this is pretty much the best book I have ever read. I knew there was a reason Reynolds is my favourite author, and this just confirms it. There is a slight lull toward the middle, but this is merely so he can set into motion the lumbering, devastating plot that eventuates. I'm sure it will improve on subsequent readings. Fucking brilliant.
Also in the Gollancz S.F. series | View all