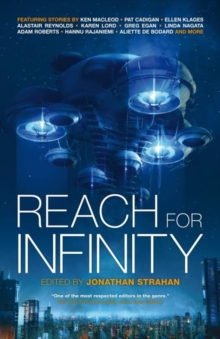 Reach For Infinity
Paperback
Description
What happens when humanity reaches out into the vastness of space? The brightest names in SF contribute orginal new fiction to this amazing anothology from master editor Jonathan Strahan. Including new work by Alastair Reynolds, Greg Egan, Ian McDonald, Ken Macleod, Pat Cadigan, Karl Schroeder, Hannu Rajaniemi, Karen Lord, Adam Roberts, Kathleen Ann Goonan, Aliette de Bodard, Peter Watts, and others!
Information
Format: Paperback
Pages: 339 pages
Publisher: Rebellion
Publication Date: 05/06/2014
Category: Anthologies (non-poetry)
ISBN: 9781781082027
Free Home Delivery
on all orders
Pick up orders
from local bookshops
Reviews
Showing 1 - 1 of 1 reviews.
Review by AlanPoulter
16/06/2015
Greg Egan - Break my fallUnexciting tale of a problem with piggy-backing rides on meteors to get to Mars.Aliette de Bodard - The Dust QueenThis story lost me completely...Ian McDonald - The fifth DragonA slice of the near future for the Moon as two lovers go their separate ways...Karl Schroeder - Kheldyu In the Gennady series, a vicious dispute between plutocrats threatens to re-open a dangerous event from Earth's pre-history...Pat Cadigan - Report concerning the presence of seahorses on Mars Mars revolts in a strange near future.....Karen Lord - Hiraeth : a tragedy in four actsRather gnomic tale about the life of a cyborg...Ellen Klages - Amicae AeternumCute story about two friends who will never see one another again... Adam Roberts - Trademark bugs : a legal historyBrilliant satire in an alternate near future which develops a bizarre legal systemLinda Nagata - AttitudeTotally clichéd future sports storyHannu Rajaniemi - Invisible planets (with apologies to Italo Calvino)Clever riff on Calvino's style....Kathleen Ann Goonan - Wilder still, the starsRather flat tale of a new breed of humans going to the stars...Ken MacLeod - The entire immense superstructure : an installationNot quite sure what to make of this - it is about a weird artist d but has no payoff..Alistair Reynolds - In BabelsbergAn infallable robot is shown up...Peter Watts - HotshotAnother harrowing tale of exploration, this time involving the Sun...