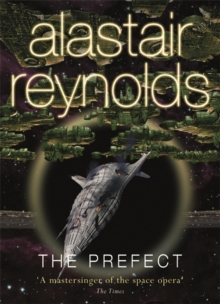 Description
A rollercoaster ride through the dark and turbulent universe of REVELATION SPACE: an interstellar thriller where nothing - and no one - is what they seem ...Tom Dreyfus is a Prefect, a policeman of sorts, and one of the best.
His force is Panoply, and his beat is the multi-faceted utopian society of the Glitter Band, that vast swirl of space habitats orbiting the planet Yellowstone.
These days, his job is his life. A murderous attack against a Glitter Band habitat is nasty, but it looks to be an open-and-shut case - until Dreyfus starts looking under some stones that some very powerful people would really rather stayed unturned.
What he uncovers is far more serious than mere gruesome murder: a covert takeover bid by a shadowy figure, Aurora (who may once have been human but certainly isn't now), who believes the people of the Glitter Band should no longer be in charge of their own destiny. Dreyfus discovers that to save something precious, you may have to destroy part of it.
Information
Format: Paperback
Pages: 512 pages
Publisher: Orion Publishing Co
Publication Date: 10/04/2008
Category: Science fiction
ISBN: 9780575082182
Free Home Delivery
on all orders
Pick up orders
from local bookshops
Reviews
Showing 1 - 5 of 5 reviews.
Review by reading_fox
16/06/2015
A standalone police procedural crime novel set in Alistair's amazing and intruguing Revalation Space universe. It is worth and probably necessary to have read the preceding books which give a sense of the issues involved. Chronologically this is set within the Revalation Space, the Glitter band is still operative, although Dan's mission has launched towards the Shrouder clouds. There are many familiar names which crop up in the other books. Drefus is a Prefect of the Panopoly 'police' force - the only overreaching authority within the Glitter band, their remit is the preservation of democratic voting rights, all else falls to internal Habitat control. When a Habitat is destroyed! witht he loss of all 960 lives aboard, Drefus is called to expand his normal role and investigate the obvious and not-so-obvious leads. His deputies Thalia Ng and the Hyperpig Spavier assist as best they can with the routine running of voting control, unil it becomes apparant that not all is quite as it seems.This is another thrilling and entertaining excursion from Alistair Reynolds, it's major downside is that it doesn't really feature any of the exciting and novel technological possabilities that marked his previous work. It does feature a continuation and expansion of the those he's previously introduced, but there is nothing new. However this doesn't detract from the wonders of the universe, the quandries of the characters or the twists in the plot that make this an enjoyable read.
Review by gregandlarry
16/06/2015
A great story set in Revelation Space.
Review by AlanPoulter
16/06/2015
This novel is set in the Glitter Band space habitats/Yellowstone planet locale of previous novels. The prefect is Tom Dreyfus, a policeman for the Panopoly and indefatigable seeker after the truth. He fixes a voting irregularity in one habitat, sends a deputy to fix another voting irregularity in four habitats and starts to unravel why a ship crewed by distrusted body-morphers known as Ultras destroyed a small space habitat using its space drive. The unravelling makes up the main thread of the story, taking in a homicidal computer replica of a long-dead woman, a asteroid containing a hidden spaceship of the Borg-like Cojoiners, a malign computer intelligence built using the mind of a dead explorer of alien relics, a traitor and a cabal in the Panopoly itself and a dastardly plan to save the Glitter Band by enslaving it. Dreyfus, his 'hyperpig' sidekick and his deputy all acquit themselves well. For all the invention present, the core plot is rather textbook and the good guys beat the bad ones as expected. Nothing, not even a revelation from his past, diverts Dreyfus from his ordained role.
Review by streetwa
16/06/2015
Good hard sci-fi - as much a galactic detective story as future but a good read
Review by shanaqui
16/06/2015
I loved seeing more of the Glitter Band in this, and the stuff about the Clockmaker was lovely. There could have been more resolution, though.
Also in the Gollancz S.F. series | View all