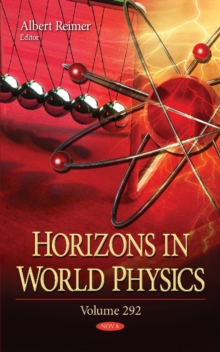 Horizons in World Physics : Volume 292
Hardback
Description
In this book, Chapter One reviews the dynamics of an apokamp and its parent discharge, present spectral data on apokamps in air, helium, and argon, and discuss possible applications of the novel phenomenon, in particular for simulating transient luminous events such as blue and red jets and for creating apokamp-based exciplex sources.
In Chapter Two, a stratigraphic and structural interpretation of the seismic profiles recorded in the northern Ischia Island is presented aimed at improving the knowledge of the northern Ischia coastal belt and its relationships with the emplacement of the slide deposits in the offshore surrounding the Ischia island, which has been controlled by the complex and different volcano-tectonic events.
Chapter Three covers Ga2O3, a promising wide bandgap semiconductor for applications including power electronics and photodetectors and is available in large diameter, high quality bulk crystalline form.
Chapter Four contests the big bang theory, showing the manifold of the hyperbolic Universe is complete with no singular points.
Chapter Five shows that the structure of nuclei determines the structure of chemical compounds, their bonds are formed by free-oscillating protons (FOP) between the baryonic states of the nucleons and their dissolved forms in PV.
Chapter Six discusses the current state of research of artificial atoms (superatoms) (quasiatomic nanoheterostructures) and more complex nanostructures based on them-synthetic molecules, proposed a new model of an artificial atom, satisfactorily explaining its electronic properties, as well as the prospects for the development of the new scientific field.
Chapter Seven discusses how fire in microgravity can create flamelets and flameballs and undergoes bifurcations when interacted upon by acoustic waves.
In Chapter Eight, an analogous (dual) concept of measurability is defined in thermodynamics on the basis of a minimal inverse temperature.
Chapter Nine is devoted to a pedagogical synthesis of the mathematical formalism employed in this analysis, i.e. the optical structure of general relativity investigated by Christodoulou, Klainerman and other authors after them.
Information
Format: Hardback
Pages: 185 pages
Publisher: Nova Science Publishers Inc
Publication Date: 01/07/2017
Category: Physics
ISBN: 9781536123074
Free Home Delivery
on all orders
Pick up orders
from local bookshops