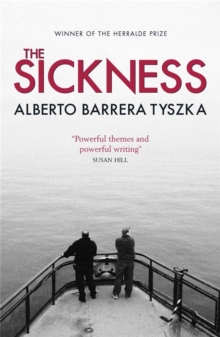 Description
Ernesto Duran is convinced he is sick. It becomes an obsession far exceeding hypochondria, and when Dr Andres Miranda gives up responding to e-mails, Duran resolves to stalk him.
The fixation has its own creeping effect on Karina, the hospital secretary, who cannot resist becoming involved.
Meanwhile Dr Miranda is coming to terms with a tragedy of his own: his father has been diagnosed with terminal cancer, and yet the doctor - the son - finds it impossible to tell him.
He hopes that by taking his father on a trip to Isla Margarita, where they once went when he was a child, he might be able to reveal the truth.
The nature of sickness as experienced by two individuals provides the backbone to this tender, thoughtful and refined novel.
The Sickness is profound and philosophical, and yet written with an agility that expresses the tragedy, but also the comedy of life itself.
A brilliantly achieved first novel.
Information
Format: Paperback
Pages: 160 pages
Publisher: Quercus Publishing
Publication Date: 01/07/2011
ISBN: 9781849164030
Free Home Delivery
on all orders
Pick up orders
from local bookshops
Reviews
Showing 1 - 2 of 2 reviews.
Review by BlackSheepDances
16/06/2015
Translated from the Spanish by Margaret Jull Costa"Tears are very unliterary: they have no form."This is possibly the most dog-eared book I've ever had. Folding down corners is my method for marking significant (to me) passages, but it clearly wasn't working with this fiction novel because I was marking every page. I'd never read this Venezuelan author before, but I hope to find more of his work translated into English.Delicate prose, deep moral questions, and a stunning pace are what kept me hooked into reading this in one sitting. The story itself is rather simple: a successful doctor discovers that his father is seriously ill. Their close relationship is strained as the son weighs the consequences of telling his father the details of his illness. In the meantime, another man, virtually unknown to the doctor, begins stalking him, imagining that he holds the cure for the the list of complaints he suffers from. There's a push and pull to the narrative, as the poignant moments between father and son,nuanced with shared memories of grief, intertwine with the creepy certainty of the stalker. Because of the health issues that permeate the novel, questions about the nature of health and wellness are explored, but in a brief, compelling way. The author cites quotes of famous authors, ethicists and physicians, but he's not showing off, they are actually appropriate observations of how the human body deals with illness. These asides never go too long or feel like a lecture, they fit the material in the most uncanny way.For example, Tyszka quotes Julio Ramon Ribeyro, who provides possibly the best explanation for the euphoria that exists after an episode of physical pain:"Physical pain is the great regulator of our passions and ambitions. Its presence immediately neutralizes all other desires apart from the desire for the pain to go away. This life that we reject because it seems to us boring, unfair, mediocre or absurd suddenly seems priceless: we accept it as it is, with all its defects, as long as it doesn't present itself to us in its vilest form - pain."Tsyzka presents simple scenes with insightful observation. On trying to read the face of a doctor while awaiting possibly bad news:"It's the illustration that accompanies a bad diagnosis, the first installment of an expression of condolence."On imagining his father's worries:"Are the monsters of old age as terrible as those that assail us when we're children? What do you dream about when you're sixty-nine? ....Perhaps this is what his father dreams about: he's in a laboratory, in the bowels of a hospital, surrounded by chemicals, sharp implements, gauze, and strangers all repellently dressed in white...."Events proceed in unexpected ways, and as a reader, you never quite know what direction you're being pulled in. You feel empathy and disgust in altering passages, and the underlying fear is riveting. I did find the ending a bit confusing...I still am not sure I've understood all the implications laid out.One scene confounds me: It takes place on a ferry, where an obnoxious businessman makes a production of his 'importance' and maltreats his seemingly intelligent and kind wife, all the way to the point of beating her to the ground. I'm not sure what the symbolism is, although I know it's present in that scene. Is Tyszka trying to say that people are subject to humiliation, by oppression or illness, no matter how virtuous they are? In full, this is easily going to be in my list of favorites for the year. While the subject revolves around illness, it never quite defines which 'illness' is being addressed: is it disease? regret? evil? The questions are posed, and only each individual reader can answer.
Review by tixylix
16/06/2015
My mum read this novella for her bookgroup and reported the variety of reactions to it. Some found it almost impossible to read but I think it was because the subject (a man dying of cancer) too close to the bone. I haven't had direct experience of anyone close to me dying of cancer and therefore I think I approached the book more subjectively than some, plus I think the brevity of the story prevented me from becoming too attached to any of the characters.The plot follows a doctor who is finding it very difficult to tell his father that he (the father) is terminally ill with cancer. His struggle with relating this information is interspersed with a subplot - and one which drives the story forward and kept me turning the 150 pages - about the doctor's secretary, who begins an email correspondence with one of his patients. I found that although I liked the succinct writing of this novella, I really wanted more information and description about everyone and everything. For instance, we get a glimpse into the hard life of the cleaner, whose son is becoming drawn into a local gang, Venezuelan politics are touched upon very lightly and an incident on a boat is narrated sparsely with little context or follow through...it all left me feeling not exactly unsatisfied, but sort of emotionally uninvolved somehow. Still, an interesting read.
Also by Alberto Barrera Tyszka