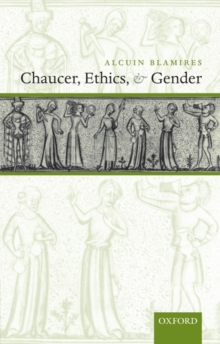 Chaucer, Ethics, and Gender
Paperback / softback
Description
This book makes a vigorous reassessment of the moral dimension in Chaucer's writings.
For the Middle Ages, the study of human behaviour generally signified the study of the morality of attitudes, choices, and actions.
Moreover, moral analysis was not gender neutral: it presupposed that certain virtues and certain failings were largely gender-specific.
Alcuin Blamires - mainly concentrating on The Canterbury Tales - discloses how Chaucer adapts the compositeinherited traditions of moral literature to shape the significance and the gender implications of his narratives.
Chaucer, Ethics, and Gender is therefore not a theorization of ethical reading but a discussion of Chaucer's engagement with the literature of practical ethical advice.
Working with thecommonplace primary sources of the period, Blamires demonstrates that Stoic ideals, somewhat uncomfortably absorbed within medieval Christian moral codes as Chaucer realized, penetrate the poet's constructions of how women and men behave in matters (for instance) of friendship and anger, sexuality and chastity, protest and sufferance, generosity and greed, credulity and foresight.
The book will be absorbing for all serious readers or teachers of Chaucer because it is packed with commanding new insights.
It offers illuminating explanations concerning topics that have often eluded critics in the past: the flood-forecast in The Miller's Tale, for example; or the status of emotion and equanimity in The Franklin's Tale; the 'unethical' sexual trading in The Shipman's Tale; the contemporary moral force of a widow's curse in The Friar's Tale;and the quizzical moral link between The Wife of Bath's Prologue and Tale.
There is even a new hypothesis about the conceptual design of The Canterbury Tales as a whole.
Deeply informed and historically alert, this is a book that engages its reader in the vital role played by ethical assumptions (with their attendant genderassumptions) in Chaucer's major poetry.
Information
Format: Paperback / softback
Pages: 276 pages
Publisher: Oxford University Press
Publication Date: 01/03/2008
ISBN: 9780199534623
Free Home Delivery
on all orders
Pick up orders
from local bookshops