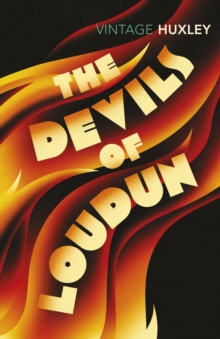 The Devils of Loudun
Paperback
Description
In 1634 Urbain Grandier, a handsome and dissolute priest of the parish of Loudun was tried, tortured and burnt at the stake.
He had been found guilty of conspiring with the devil to seduce an entire convent of nuns in what was the most sensational case of mass possession and sexual hysteria in history. Grandier maintained his innocence to the end and four years after his death the nuns were still being subjected to exorcisms to free them from their demonic bondage. Huxley's vivid account of this bizarre tale of religious and sexual obsession transforms our understanding of the medieval world.
Information
Format: Paperback
Pages: 400 pages
Publisher: Vintage Publishing
Publication Date: 07/04/2005
Category: European history
ISBN: 9780099477761
Free Home Delivery
on all orders
Pick up orders
from local bookshops
Reviews
Showing 1 - 2 of 2 reviews.
Review by dougwood57
16/06/2015
One of the joys of reading is how one subject can lead to a serendipitous find. Having recently come across a brief reference to the early 17th century barking nuns of Loudon I went in search of a more detailed exploration. In Aldous Huxley's book I found all that I sought and much more. Urbain Grandier, the local parson of Loudon, is a very naughty cleric who partakes much too much of the sensual world. One morsel happens to be the daughter of his best friend. She becomes pregnant with unhappy consequences for many people. Grandier manages in this way of behavior to alienate nearly every important Catholic in Loudon as well as make an enemey of Richelieu. When Grandier spurns the local prioress, Sister Jeanne, she claims demonic possession at the hand of Grandier as do 2 of her nuns. Grandier may have been guilty of many sins, but demonic possession was not among them. Exorcists are brought in as much too destroy Grandier as to throw out the devils (7 specific ones inhabit Sister Jeanne alone). The exorcists produce devils in 14 more nuns. The public exorcisms provide great entertainment, reviving the local tourist industry, but eventually produce the trial of Grandier, who in due turn is burned at the stake. The story continues when the Jesuit Surin arrives to finally successfully exorcise Sister Jeanne's demons. Huxley's 1952 work explores the psychological aspects of demonic possession and exorcism, sometimes brilliantly against the backdrop of the madnesses of his own time. Liberal rationalists had "fondly imagined" an end to persecutions of 'heretics'. Instead, as he observes "from our vantage point on the descending road of modern history, we now see that all the evils of religion can flourish without any belief in the supernatural, that convinced materialists are ready to worship their own jerry-built creations as though they were the Absolute, and that self-styled humanists will persecute their adversaries with all the zeal of Inquisitors exterminating the devotees of a personal and transcendant Satan...In order to justify their behavior, they turn their theories into dogmas, their bylaws into First Principles, their political bosses into Gods and all those who disagree with them into incarnate devils. This idolatrous transformation of the relative into the Absolute and the all too human into the Divine, makes it possible for them to indulge their ugliest passions with a clear conscience and in the certainty that they are working for the Highest Good." In the last third of the book he explores the nature of Sister Jeanne's possession, the possession of her exorcist Surin, and the manner of her recovery. The modern mind has some difficulty here. Clearly Surin and possibly Jeanne believed in the reality of demonic possessions (it is worth noting that many learned men, including those behind Grandier's fall and most Jesuits did not believe in the authenticity of these possessions). At the same, Jeanne is also play-acting at times as she concedes in her own subsequent writings. They believed in the Devil, they believed in possession, but understood that the Devil could not overcome the will of the possessed. Huxley paints a poignant, if oddly amusing, scene when he describes how Surin ordered Jeanne's devils to discipline themselves - in other words to flagellate Jeanne. Two of the devils lay on the whip with gusto, but Balaam and Isacaaron abhorring pain, would barely swing the whip and yet the possessed Jeanne would scream in agonized suffering. An absolutlely fascinating read by one of the great minds of the 20th century.
Review by collingsruth
16/06/2015
The book seems like it has no plot at all and then you realize how fucked up it is. I'm not sure I understood it the first time I read it, with absolutely no context. I didn't even realize it was nonfiction until I wikipediaed it a moment ago. If you ever wanted to know what witch trials in the mad Cardinal Richelieu's France were like.