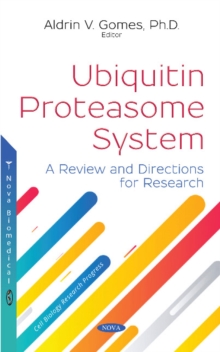 Ubiquitin Proteasome System : A Review and Directions for Research
Hardback
Description
Over the last decade, major advancements in our understanding of the ubiquitin-proteasome system (UPS) have occurred.
This book focuses on recent trends in the UPS. The UPS is possibly the most complex of all intracellular pathways as close to 7% of all genes in the human genome make up part of the UPS.
This complex system serves as an essential role in intracellular protein degradation, and because of its critical function, improper functioning of the UPS is associated with nearly all know diseases, including cancer, cardiovascular disease, and neurological diseases.
The proteolytic component of the UPS is the proteasome, a multicatalytic complex found in the nucleus and cytoplasm.
Another form of the proteasome, the immunoproteasome, is less abundant than the constitutive proteasome, but is important in immune response and degradation of oxidized proteins, and recent research suggests that it may be important in longevity.
The articles in this book discuss recent findings which indicate that mutations in proteins involved with the UPS are associated with genetic diseases such as familial dilated cardiomyopathy, Nakajo syndrome, and spinal muscular atrophy (X-linked).
Some chapters also discuss recent results which suggest that the UPS is heavily regulated by post-translational modifications such as phosphorylation, acetylation, and methylation.
The UPS is also heavily regulated by ubiquitination itself.
This book contains a research article using PubMed bibliometric data to present current research trends in the UPS.
Articles are written so that no one tissue is emphasized to allow readers from any discipline to benefit from this information.
Free Home Delivery
on all orders
Pick up orders
from local bookshops