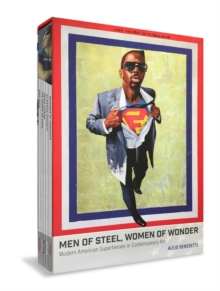 Men of Steel, Women of Wonder : Modern American Heroes in Contemporary Times
Hardback
Description
Saturated in patriotic colors, Superman and Wonder Woman are about as American as baseball and apple pie.
Superman, created in 1938, materialized as the brawny answer to the Great Depression, and when Wonder Woman arrived three years later, she supported her adopted country by fighting alongside Allied troops in World War II.
As the proverbial mother and father of the superhero genre, these icons appeared to a society in crisis as unwavering beacons of national morality, a quality that lent them success on the battlefield-and on the newsstand. As new crises arise our comic-book champions continue to be called into action.
They adapt and evolve but remain the same potent, if flawed, symbols of the American way.
The artists in Men of Steel, Women of Wonder, an exhibition organized by Crystal Bridges Museum of American Art, wrestle with Wonder Woman's standing as a feminist icon, position Superman as a Soviet-era weapon, and question the immigration status of both characters.
Featuring more than seventy artworks that range from loving endorsements to brutal critiques of American culture, this exhibition catalog reveals the enduring presence of these characters and the diverse ways artists employ them.
Information
Format: Hardback
Pages: 250 pages, 102 images
Publisher: University of Arkansas Press
Publication Date: 28/02/2019
Category: General arts
ISBN: 9781682260975