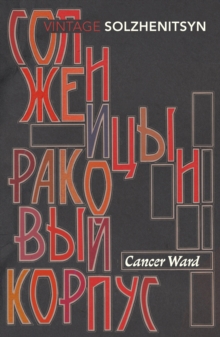 Description
One of the great allegorical masterpieces of world literature, Cancer Ward is both a deeply compassionate study of people facing terminal illness and a brilliant dissection of the 'cancerous' Soviet police state.
Withdrawn from publication in Russia in 1964, it became, along with One Day in the Life of Ivan Denisovich, a work that awoke the conscience of the world.
As Robert Service wrote of its appeal in the Independent, 'In waging his struggle against Soviet communism, Solzhenitsyn the novelist preferred the rapier to the cudgel'.
Information
Format: Paperback
Pages: 576 pages
Publisher: Vintage Publishing
Publication Date: 30/04/2003
ISBN: 9780099575511
Free Home Delivery
on all orders
Pick up orders
from local bookshops
Reviews
Showing 1 - 1 of 1 reviews.
Review by Proustitutes
11/07/2015
There's something sobering about this novel.<br/><br/>Weighing in at over 500 pages and easily the heaviest thing in my bag, <i>Cancer Ward</i> would seem to come to a definite conclusion, be it comforting or disturbing, by its denouement. But Solzhenitsyn offers nothing of the sort. Rather, we must revel in the beautiful ambiguity of this novel, and, in so doing, revel in the often frustrating, poignant, and somber ambiguity of life. <br/><br/>This novel is at once both a metaphorical critique of Soviet Russia as well as a touching story of numerous multi-faceted characters. From almost humorously heartless Rusanov, to young and lovable Dyomka, to our faithful protaganist Kostoglotov, there isn't much of humanity that Solzhenitsyn doesn't touch upon with his piercing thought. And touch he does: Solzhenitsyn set the novel in a Cancer Ward on the outskirts of the USSR in the mid-50's, and used this locale masterfully as a touching-point for his clear observations of both life and death. <br/><br/>Some men survive to see better times; many fates are left unknown; and, unavoidably, with a sick punch to my gut, a few men suffer throughout, never to live their lives with health and zeal again. <br/><br/>At points, the feel of decay in the Ward is tangible. Tomb-like, almost. As though there is nowhere for these varied men to go, nothing for them to hope for, their robust arms, stomachs, legs all wasting away to nothingness. <br/><br/>And yet, <b>there is life to live</b>. Kostoglotov realizes this and fights for his freedom with all that he has; he sneaks books, questions doctors, does all that a peasant man can do to try to take hold of his life once again. He struggles with the decision of whether or not to take a hormone treatment that will give him the gift of freedom for a few years--but at the expense of his virility. And he wonders: what is the price of a life? At what point do you cut the cord? Is freedom truly freedom if you cannot follow your passions? <br/><br/>Amidst these back-and-forth daily concerns is the overarching concern of Soviet society. The Cancer Ward is a microcosm for the USSR at large; it holds both party leaders and party exiles, camp guards and camp prisoners in its fleshy grip. <b>Their cancers bring them down to the same level: human. And it is terrifying.</b> Kostoglotov often considers the senseless cruelty that comes with life.... of cancer, of the Soviet party leaders, of average, normal human beings. He thinks of the monkey at the zoo that has been blinded by a man who threw tobacco at its eyes. And he learns that there will never be a respite from senseless, reasonless malice; it is the sober state of human nature that a single man can, at will, unwind all of your life and its promises and treasures. <br/><br/>Just like that....
Also by Aleksandr Solzhenitsyn | View all