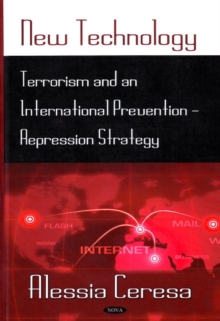 New Technology : Terrorism & an International Prevention-Repression Strategy
Hardback
Description
From the second half of the the years '90s, we are assisting to a progressive internationalisation of 'Terror(ism)', through the diffusion on a large scale fo the New Technology as an essential component of our lives.
National and International Terriorism, in fact, has found a great ally in technological instruments and, in particular, Internet, since they guarantee a high level of anonymity and they represent new channels of communication, essential to keep internal contacts among the members of a single terrorist organisation and they are fundamental instruments also to develop an international network of connections both for idelogogical support, as well as for massive recruitment campaign.
New technology has also developed new and more aggressive "technological weapons" (mass-destruction armaments and CBRNE weapons), used by the criminal terrorist organisations for creating new and alternative forms of blackmailing the International Institutions and the 'Civil Society'.
These armaments are also considered a new source of raising funds for financing terrorism, because of the illegal trade of toxic and nuclear material.
The time is mature for clarifying the concrete subversive capability of the several Terrorist movements that at a National-Intentional level represents a menace to the 'global security', in the light also of the fact that New Technology has progressively contributed in creating a world without spatial and temporal frontiers, through Internet and the technological instruments.
This research also has the aim to develop a new program of prevention/repression strategy against Terrorism in any form and idelogical identity, to shorten the distance between the Terrorist phenomenon and the capability of the International Society to prevent and control this 'pathological' problem, using the same technological instruments exploited by Terrorism: from an 'asymmetric war' to a more and more 'symmetrical war', where the battle-field is the the Informational Technology.
Information
Format: Hardback
Pages: 259 pages
Publisher: Nova Science Publishers Inc
Publication Date: 18/03/2009
Category: Terrorism, armed struggle
ISBN: 9781606921357
Free Home Delivery
on all orders
Pick up orders
from local bookshops