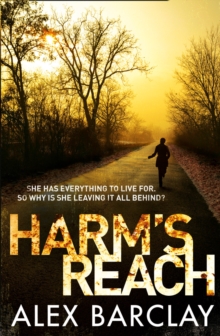 Description
FBI Agent Ren Bryce finds herself entangled in two seemingly unrelated mysteries.
But the past has a way of echoing down the years and finding its way into the present.In the end, the truth will find you...When Special Agent Ren Bryce discovers the body of a young woman in an abandoned car, solving the case becomes personal.
But the more she uncovers about the victim's last movements, the more questions are raised.Why was Laura Flynn driving towards a ranch for troubled teens in the middle of Colorado when her employers thought she was hundreds of miles away? And what did she know about a case from fifty years ago, which her death dramatically reopens?As Ren and cold-case investigator Janine Hooks slowly weave the threads together, a picture emerges of a privileged family determined to hide some very dark secrets - whatever the cost.
Information
Format: Paperback
Pages: 412 pages
Publisher: HarperCollins Publishers
Publication Date: 09/10/2014
Category: Thriller / suspense
ISBN: 9780007494514
Free Home Delivery
on all orders
Pick up orders
from local bookshops
Reviews
Showing 1 - 1 of 1 reviews.
Review by shelleyraec
16/06/2015
Harm's Reach is the fourth book in Alex Barclay's crime fiction series featuring FBI Agent Ren Bryce.Despite not being familiar with the previous novels in this series I didn't feel at all adrift. Ren, an FBI agent attached to a multi agency task force in Denver, is following up on a bank robbery when she stumbles upon the body of a young pregnant woman, shot to death in a rental car on the side of the road. No one seems to be able to explain what Laura Flynn was doing there or why any one would wish her harm.The investigation twists in unexpected ways, with Ren's colleague and friend, cold case investigator Janine Hooks, becoming involved when they theorise that Laura may have uncovered some sensitive information about a fifty year old crime. Even as they explore the possibility, Ren continues to delve into Laura Flynn's life, and discovers that the wealthy employers that claim Laura as family are hiding secrets from them. I enjoyed the intricacies of the plot and was surprised by the way the threads converged to resolve not one but three very different cases.I really liked getting to know Ren who is an intelligent and capable investigator with a wicked sense of humour. Ren is also struggling with a recent diagnosis of bi-polar disorder, an unusual trait for a lead character in this genre, and a new long distance relationship with a man who is unaware of her condition.Ren's colleagues and friends are appealing, I enjoyed her banter with Janine and her task force mates, and the relationship between Ren and her boss, and with her therapist, offers additional insight into her character.Offering strong and interesting characterisation, and a well crafted story I really enjoyed Harm's Reach and I'm eager to read more of this series.