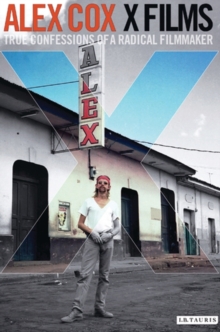 X-Films : True Confessions of a Radical Filmmaker
Hardback
Description
Philip French has called Alex Cox, 'British Cinema's oldest enfant terrible'; it's a description that its recipient fully approves of.
He is the genuine article, a radical, international, independent filmmaker, who is also a good writer, insightful commentator on cinema now, and expert critic of the power of Hollywood.
He grew up with a passion for the pictures, and this book has as its centre the filmmaking autobiography of a fine director, the journey through all the major films he has made and how he has made them, including his new film, now in production.
He takes us to varied locations, including the US, Mexico, and Nicaragua, where he made "Walker" with the cooperation of the Sandinista government.
His book is full of fresh ideas, rare insights into many films of all kinds and into the people he's worked with including greats like Dennis Potter and Harry Dean Stanton.
As well as being the confessions of a radical filmmaker, "X Films" is also the most readable working manual yet for the independent filmmaker. Enfant terrible he may be, but Alex Cox is also ahead of the game and is a pioneer and promoter of new forms of filmmaking for the cultural revolutionaries of the 21st century - visual, visceral but interactive, with multiple narrative possibilities.
Information
Format: Hardback
Pages: 336 pages, 18 integrated b&w, 3 line drawings
Publisher: Bloomsbury Publishing PLC
Publication Date: 30/06/2008
Category: Individual film directors, film-makers
ISBN: 9781845115661