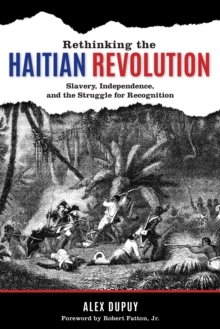 Rethinking the Haitian Revolution : Slavery, Independence, and the Struggle for Recognition
Paperback / softback
Description
In this important book, leading scholar Alex Dupuy provides a critical reinterpretation of the Haitian Revolution and its aftermath.
Dupuy evaluates the French colonial context of Saint-Domingue and then Haiti, the achievements and limitations of the revolution, and the divisions in the Haitian ruling class that blocked meaningful economic and political development.
He reconsiders the link between slavery and modern capitalism; refutes the argument that Hegel derived his master-slave dialectic from the Haitian Revolution; analyzes the consequences of new class and color divisions after independence; and convincingly explains why Haiti chose to pay an indemnity to France in return for its recognition of Haiti's independence.
In his sophisticated analysis of race, class, and slavery, he provides a robust theoretical framework for conceptualizing and understanding these major themes.
Information
Format: Paperback / softback
Pages: 184 pages
Publisher: Rowman & Littlefield
Publication Date: 21/03/2019
Category: Regional studies
ISBN: 9781442261112
Other Formats
Hardback from £46.69
EPUB from £75.60