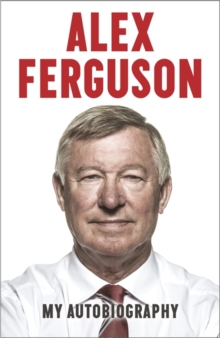 Alex Ferguson My Autobiography
Hardback
Description
Sir Alex announced his retirement as manager of Manchester United after 27 years in the role. He has gone out in a blaze of glory, with United winning the Premier League for the 13th time, and he is widely considered to be the greatest manager in the history of British football. Over the last quarter of a century there have been seismic changes at Manchester United.
The only constant element has been the quality of the manager's league-winning squad and United's run of success, which included winning the Champions League for a second time in 2008. Sir Alex created a purposeful, but welcoming, and much envied culture at the club which has lasted the test of time. Sir Alex saw Manchester United change from a conventional football club to what is now a major business enterprise, and he never failed to move with the times. It was directly due to his vision, energy and ability that he was able to build teams both on and off the pitch. He was a man-manager of phenomenal skill, and increasingly he had to deal with global stars. His relationship with Cristiano Ronaldo, for instance, was excellent and David Beckham has described Sir Alex as a father figure. Over the past four years, Sir Alex has been reflecting on and jotting down the highlights of his extraordinary career and in his new book he will reveal his amazing story as it unfolded, from his very early days in the tough shipyard areas of Govan.
Information
Format: Hardback
Pages: 416 pages, tbc
Publisher: Hodder & Stoughton General Division
Publication Date: 24/10/2013
Category: Autobiography: sport
ISBN: 9780340919392
Other Formats
Paperback from £8.85
EPUB from £6.99
CD-Audio from £18.89
Free Home Delivery
on all orders
Pick up orders
from local bookshops
Reviews
Showing 1 - 5 of 5 reviews.
Review by Jiraiya
16/06/2015
This autobiography is around as bad as Eric Cantona's book. The best bio I've read was Stephen Gerrard's. There are fan mails that are funnier, more insightful, more daring, and much more impartial than this dreck. Ferguson took his time to mention some people. He also doesn't mention, among his pastimes, his stint of learning the piano. I guess that hobby was filed under the Bebe level of abortions. I also couldnae understand the jokes. So Fergie goes into a bar(which he owns) and says that Liverpool need 9 players to win the title. "Nine?" came the disbelieving echo. No, said Alec, seven then. Cue hilarious laughter. Am I missing pages here? Something grated about the style and vocab of this book. Some words were finely used, but the combination of English words produced a half baked idea of a book. It's as if the man simply cobbled together his notes and glued them with a hefty thesaurus. There was absolutely no insight into the man's psyche. Can we really believe that he kicked a boot that happened to land on Beckham's eye? Can he really make us believe that he doesn't hound referees? Does he think he can make us forget the way Arsenal was stopped in their invincible mindset? How can he not address ignoring Mourinho in favor of fellow compatriot Moyes? As a bored football watcher, I found few bits of info that was unknown to me. All of which I've forgotten. I was so geared up for this book. I knew this book would be a bigger success than United's season. The book 'Champions At Last' was so fun to read. It helped that the football on show was exciting. It's a book I recommend. It's also rueful that no chapter was reserved for Eric Cantona. But we do get one for Ruud Van Nistelrooy. Hillsborough has more coverage than the Munich Air Disaster. Ferguson left it late to both retire and write his book. He wasn't born with a silver spoon in his mouth nor is he silver tongued. Verdict; somethings definitely rotten in the kingdom of Mancunia.
Review by khamneithang
16/06/2015
One of the best managers the game of football has ever had, Alex Chapman Ferguson marshaled a band of rugged players into a team of champions during a career spanning over 27 years, winning the English Premier League thirteen times. With his no-nonsense attitude, he turned Manchester United into one of the best clubs in the world. Without an iota of doubt, he's a manager par excellence. And look where's the team is today without him. Though strengthened with the addition of some players, it is languishing at the 8th place after 10 games under David Moyes.Alex Ferguson: My Autobiography by Alex Ferguson is not one of those fine autobiographies we sometimes come across. Nevertheless, it is still a good read. Written after he has gone out in a blaze of glory, the book contains interesting chapters which reflects his personality: reflections, Glasgow roots, retirement u-turn, a fresh start, lean times, outside interests, the class of '92, Liverpool – a great tradition, a world talent, one night in Moscow, psychology, Barcelona (2009-11 – small is beautiful), the media, United's 19th title, Man City – champions, family and the last campaign.The autobiography is an interesting one with two chapters devoted exclusively with two of his greatest rival managers: Mourinho – The 'Special' Rival and Competing With Wenger. It also sheds light on his relationship with some of the biggest names to have ever played under him, devoting six chapters : Beckham, Rio, Ronaldo, Keane, Van Nistelrooy, and Rooney.As a life-long fan of the Gunners, I love the book as Fergie has some kind words for Arsene Wenger and admired him as a manager of one of the best teams in the world. But as a huge, huge fan of David Beckham, I was a bit disappointed as I feel the former Manchester United manager was a bit too harsh on him.Alex Ferguson: My Autobiography is not a sensational one. Fergie confines himself mostly within the ambit of the game. It is a good read for football fans, irrespective of club colors.What is missing is Fergie's relationship with the Glazers who owns the club. It would have been nice if the former manager had written something about them. And I feel the chapters are poorly organized, and badly titled. The book would have been much better if these aspects had been taken care of.
Review by samarnold1975
16/06/2015
It is fair to start this review by saying I am a huge Manchester United fan so for me this book has a special feel. The book shows a unique sense of humour to Sir Alex Ferguson which was never very evident in his time on TV during interviews and matches.<br/><br/>This book has been well quoted in the media. I have to say after reading it the quotes of course are accurate but highly taken out of context. The well quoted opinions on Beckham and Rooney although accurate are largely taken out of context. What is missing from these quotes are the other highly supportive and complimentary opinions which Sir Alex includes. Of course positives don't sell as many papers and in all honestly may not have sold so many copies of the book itself.<br/><br/>The book details certain players and events in Sir Alex's managerial career. Although not chronological this is a fascinating insight to one of the most successful mangers ever. Mixed within the fact and opinions about Manchester United are antidotes and facts that will keep any football fan interested irregardless of which team you support.<br/><br/>This book took me longer to read than normal mainly because of the wealth of information that has to be digested. There were moments when I found myself realising that Sir Alex was talking about a match I had actually seen. As well as events you expect to be covered such as The Class of 92 and The David Beckham Boot Incident there are also other smaller events that are just as entertaining and were never reported in the media.<br/><br/>This is an amazing insight into one of the most successful football clubs and one of the most successful managers ever. For anyone who is interested in management, football or the man himself, this is a must read.
Review by joshrskinner
16/06/2015
Alex Ferguson, especially to those of us who have been introduced to English football in the past 10 years or so, is football. That is why I was very excited to dive into this autobiography. There was much that was interesting, and much that was left to be desired. The book had no flow. It was disjointed and hard to read. At times it felt like listening to a Grandpa share stories from his past. He would be in the middle of one tale and bolt off after a certain rabbit only to return a page or two later and somewhat come back to his main topic only to be after another rabbit before the page ended. There is a certain charm to that approach, but it definitely wore on me rather quickly. There is much to be enjoyed here but it was definitely more work than it should have been.
Review by jerhogan
27/08/2015
Fairly interesting portrait with Ferguson coming off non-Machiavellian (unsurprisingly I suppose). Some insights into player relationships. Good complement to his previous autobiography.