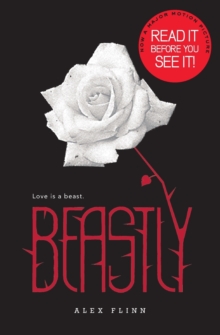 Description
With a new Beauty and the Beast movie hitting theaters in spring 2017, it's time to catch up on all things Beastly.
Find out what it was like for the beast in Alex Flinn's contemporary retelling of the classic tale.
I am a beast.A beast. Not quite wolf or bear, gorilla or dog but a horrible new creature who walks upright-a creature with fangs and claws and hair springing from every pore.
I am a monster.You think I'm talking fairy tales? No way. The place is New York City. The time is now. It's no deformity, no disease. And I'll stay this way forever-ruined-unless I can break the spell.Yes, the spell, the one the witch in my English class cast on me.
Why did she turn me into a beast who hides by day and prowls by night?
I'll tell you. I'll tell you how I used to be Kyle Kingsbury, the guy you wished you were, with money, perfect looks, and the perfect life. And then, I'll tell you how I became perfectly . . . beastly.
Information
Format: Paperback
Pages: 336 pages
Publisher: HarperCollins Publishers Inc
Publication Date: 29/12/2009
Category: Fantasy
ISBN: 9780061998669
Other Formats
Paperback from £5.25
EPUB from £3.99
Free Home Delivery
on all orders
Pick up orders
from local bookshops
Reviews
Showing 1 - 5 of 28 reviews.
Previous | Next
Review by krau0098
16/06/2015
This is a retelling of Beauty and the Beast with some changes; firstly the book is set in the modern day and secondly it is from the Beast's point of view. When I started this book I wasn't sure I was going to like it but as the story continued I really got pulled in and ended up loving it. It helps that Beauty and the Beast is one of my favorite fairy tales.Kyle Kingsbury is a jerk. He is your typical perfect looking, rich, snob. Everyone is beneath him and he is cruel about it. He gets his comeuppance when he stands up a strange girl with funny green hair and gothic clothing. You guessed it, she is a witch, and she curses him to look on the outside like he is on the inside. That is unless he is kissed by his true love within 2 years of his changing. Funny thing is Kyle's dad is a news anchor and basically disowns Kyle when he finds that his son is permanently beastly.This story started out okay. I thought the writing was kind of choppy and awkward, with lots of slang, in the beginning. As Kyle becomes a better person; the book ends up being written quite beautifully. Since it is written from Kyle's viewpoint I guess that makes sense. So, just a warning, if the book irritates you at first keep with it because it is worth the read.Flinn did an excellent job showing Kyle's transformation. There is some humor in between the different sections of the book in the form of online group chats; where Kyle goes to discuss his transformation with others who have been transformed. I thought Flinn did an excellent job of staying true to the original Beauty and the Beast story while updating the surroundings.The only part I thought was awkward was when Kyle forces Lindy to live with him; the author mentions in the back that she also had a bit of trouble reconciling this part of the story with the modern world. Besides that I was very happy with this book. It is a sweet re-telling and stays true to the many versions of the story out there. It is appropriate for kids of all ages; not a ton of violence or making out.Overall I really liked it. It was a quick and easy read. I had a lot of trouble putting the book down and ended up staying awake until the wee hours of the night to see how it ended. I will definitely be checking out more of Alex Flinn's books in the future.
Review by JessicaLouise23
16/06/2015
I really love reading fairytales and fairytale retellings, so with this being a modern retelling of my all time favourite fairytale Beauty and the Beast I knew I had to read it. This book has recently been made into a movie which looks pretty good so I wanted to get it read before the film comes out. I've heard nothing but good reviews for this book and I like the majority enjoyed it.Kyle Kingsbury is beautiful on the outside but ugly on the inside. All that matters to him is looks and he torments and pranks "the ugly kids" at school. His most recent prank is on Kendra the typical Goth girl at school. He invites her to go to the school dance and plans to humiliate her by turning up with the hottest girl in school and announcing to everyone that he never intended to be her escort. This time Kyle has messed with the wrong girl. Turns out that Kendra's a witch and she casts a spell on Kyle to make his appearance reflect how hideous he is on the inside. However if he can find someone who can see the beauty inside him despite his appearance, get them to fall in love with him and him her and seal the deal with a kiss he will be returned to his former self. He has two years to break the spell, but lets face it how can anyone ever love someone whose so perfectly beastly?This book is a fun read whilst at the same time hitting some of the classic important issues raised in the Beauty and the Beast tale. This is a story of finding yourself, learning what's important, and realising that beauty isn't skin deep. I loved how Alex Flinn made this book modern and current using internet dating, being homeschooled and other such things whilst also keeping some of the things that makes the original so special and magical like the rose and the mirror. This is a really great book which I would recommend to everyone who loves fairytales young or old. I recently ordered off Amazon Alex Flinn's latest fairytale retelling of Sleeping Beauty- A Kiss in Time which I'm very excited to read. A fun read that addresses some serious issues. 4 stars.
Review by pacey1927
16/06/2015
I adore re-tellings of fairy tales and I didnt' know this book even existed. Then I saw the preview for a movie coming out that totally had me entranced. When I found out it was based on a book, I was excited because everyone knows the book is going to be even better. I bought this book today and four hours later I finished it. What an enjoyable modernized retelling of "Beauty and the Beast". Kyle is a mean spirited rich kid who thinks that because his looks are perfect everyone else is nothing. After pulling a particularly mean stunt, he comes home to find a witch waiting for him in his room. There she curses him to live life as a beast. He has two years to find a girl to love him, and he her, to break the spell. All this should sound pretty familiar to you if you are a fairy tale fan. Yet it was such a unique experience watching conceited Kyle change into caring, sensitive Adrian. My only complaint lies in the fact that I would have liked to see more pages devoted to the blossoming romance between Adrian and Lindy. Still a shockingly lovely tale and one I would recommend to any fairy tale fan.
Review by Novelreaction
16/06/2015
What happens when you are a teenage boy living in New York City and you find yourself transformed into a Beast? Alex Flinn explores this intriguing premise in her novel, Beastly. Kyle Kingsley had it all, most popular boy in school, hot girlfriend and a father who gives him everything he wants so he doesn't have to actually spend time with Kyle. Used to getting his own way, Kyle decides to embarrass the new freaky goth girl at school by inviting her to the prom and then embarrassing her in front of all their classmates. Kyle is not a complete loss, right before embarrassing the new girl he gives the rose corsage his maid got instead of the orchid one his girlfriend wanted to the awkward girl taking tickets at the door.The new goth girl turns out to be a witch and she transforms Kyle into a beast but because of his kind gesture, gives him two years to find a girl willing to love him. Kyle is moved to Brooklyn by his father, to keep anyone from finding him, his only contact to the outside world his blind tutor Will and his housekeeper.I loved this book but I am biased because Beauty and the Beast has always been my favorite fairy tale, regardless of the version I am reading. The novel is told from the viewpoint of Kyle the beast instead of Beauty and I enjoyed the change. Kyle is a realistic character with a realistic reaction to the events in his life, depression, anger, denial. I enjoyed Flinn's incorporation of current pop-culture into the novel, Kyle joins a chatroom to discuss with others transformation, the other character's faery tale references made me giggle. I was able to read the novel in one sitting and character transformation, both emotional and physical, was intriguing and enjoyable. I look forward to seeing the movie and I will be reading Flinn's other books.
Review by elliepotten
16/06/2015
Having succumbed to all the hype around this book, and then discovered there was a movie coming out starring the delectable Alex Pettyfer (oh, and being a huge fan of Beauty and the Beast, of course!), I couldn't wait to get stuck in when a lazy day off presented itself. So yesterday I threw on my comfiest sweats, cooked me a pizza, and settled in for the ride.I wasn't disappointed. This clever modern retelling of the much-loved classic story is told from the viewpoint of Kyle Kingsbury, a teen playboy with a rich daddy and a bad attitude. When the spring dance comes around, his cruel plan to humiliate the strange, 'ugly' Kendra goes horribly awry when she reveals herself to be a beautiful witch and curses him into ugliness, turning him into a furry half-man, half-beast. Thanks to a small kindness he showed to another girl just before his transformation, she offers him a small chance to break the curse - he will have two years in which to learn his lesson and find true love, or he will remain this way forever.In some ways this reminded me of Jasper Fforde's 'Nursery Crime' series. It has been very well thought out, balancing the modern with the traditional in a fun, seamless way. All the elements you would expect are there - the rose, the mirror, the lonely house, the girl coming to stay, the loyal servants, the first dance, the sad parting... But at the same time, this is a thoroughly modern interpretation. The girl's father is a drug dealer who exchanges his daughter for his life when he breaks into the house, and Kyle finds support through an online chatroom for transformed humans (including 'Froggie', who hates living in a pond because his stuff keeps floating away, and 'SilentMaid', who is considering selling her soul to a sea witch for the love of a sailor...).Kyle reinvents himself as 'Adrian King' and leaves his unsympathetic friends and father behind, instead depending on his housekeeper Magda and blind tutor Will to help him through his ordeal. He develops a passion for roses and for books, anything to get him through the long days imprisoned in his New York house. He is a very engaging character, quickly establishing himself as a sympathetic figure and becoming more and more likeable as the book goes on. I was aching for him to win the girl's heart and break the spell! *sigh*So, yes, as you can probably tell, I really enjoyed it. There were one or two moments where it dragged a bit - hence four stars instead of five - but for the most part it was a well-paced read, with characters I could root for, some thought-provoking messages about looks, life and love, and that all-important happy ending. And just in case that wasn't enough, Flinn closes the book with a brief jaunt through the various reincarnations of this tale over the ages, including a few more modern versions to add to my list... And there's that film to look forward to as well. Highly recommended!
Also in the Kendra Chronicles series