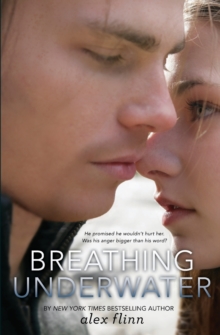 Breathing Underwater
Paperback
Description
To his friends, popular and handsome sixteen-year-old Nick Andreas has led a charmed life.
But the guys in Nick's anger management class know differently.
So does his ex-girlfriend Caitlin. Now it looks like the only person who doesn't realize how far from perfect Nick's life has become is Nick himself.
Information
Format: Paperback
Pages: 304 pages
Publisher: HarperCollins Publishers Inc
Publication Date: 20/12/2002
Category: General
ISBN: 9780064472579
Free Home Delivery
on all orders
Pick up orders
from local bookshops
Reviews
Showing 1 - 5 of 20 reviews.
Previous | Next
Review by Heather19
16/06/2015
very well-written book about a teenager who realizes he has his father's violent nature, and tries to curb that nature by attending group classes and keeping a journal.
Review by ausie7
16/06/2015
Good story and interesting way of telling/showing what happened in the past. Causes reader to think how the situation relates to them. Never boring and never just rattles on. It is realistic and isn't just a fairy tale meant to make the reader happy. It leaves you thinking.
Review by clif_hiker
16/06/2015
My introduction to Alex Flinn, who, as it turns out is a female author. I was halfway through this book (hardback library copy) when I opened the back cover to find information about the author... and discovered that it was a woman. Since the story itself is about an angry young man, and since I was seeing a lot of myself in the protagonist... unsurprisingly (but surprising me with its intensity) I became angry. "How dare a woman try to write about and understand how an angry young man feels" ...Nonsense of course and I found that I learned some things about myself from the experience. Nice. The book itself is strictly YA and not terrifically original, however Ms. Flinn, much like another favorite of mine, Chris Crutcher, is able to capture teenage angst and emotion in her images and dialogue.
Review by mattsya
16/06/2015
This book follows the YA tragedy formula well, but spins it differently telling the story from the "bad guy's" point of view. Nick Andreas is given a restraining order to stay away from his ex-girlfriend Caitlin. The book follows Nick's anger therapy, while he writes a journal detailing the events that led up the events. The book's relatively happy ending (Nick realizes how wrong he was, stands up to his abusive father and makes up with his best friend) is slightly unearned, but probably works for its genre. Well written, it could be read by inexperienced to advanced readers. The anger therapy sessions are informative and well-done. The Miami setting of the book is well defined.
Review by habeiam
16/06/2015
I just finished this book and loved it. I couldn't put it down. The topic is definitely one that is more mature as it deals with a teenager who is going through court required anger management due to the restraining order that was awarded to his girlfriend.