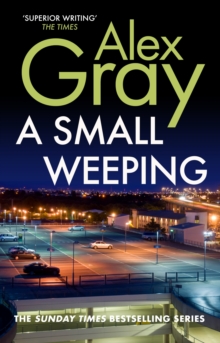 A Small Weeping
Paperback
Description
The body of a prostitute is found at Glasgow s Queen Street Station, her hands, pointing towards her feet, placed as if in prayer, a small flower pressed between the palms.
Psychologist Solomon Brightman is called to assist DCI Lorimer in the murder hunt, with the hope that his lateral thinking will shine a light on the case from a different angle.
But before any conclusions can be drawn, the body of a nurse is discovered at The Grange, a private clinic.
Aside from the careful arrangement of the corpses, there is no obvious connection between the victims; Lorimer and Solomon are still very much in the dark.
Then a third body turns up, and it seems increasingly clear that they have a serial killer on their hands."
Information
Format: Paperback
Pages: 288 pages
Publisher: Allison & Busby
Publication Date: 23/05/2005
Category: Crime & mystery
ISBN: 9780749083885
Free Home Delivery
on all orders
Pick up orders
from local bookshops
Reviews
Showing 1 - 3 of 3 reviews.
Review by edwardsgt
16/06/2015
My first Alex Gray and DCI Lorimer book. Overall I found the plotting and characters worked well and encouraged me to read further stories by this author. In this story, two young women from very different backgrounds are murdered and a carnation is placed in their cupped hands after death. Does Glasgow have a serial killer at loose and what is the connection between the victims?
Review by RuthieD
16/06/2015
Clicked with this right from the start but needed a slight prompt to keep it on track. 4 murders, brief narratives from the guilty party/ies . Kept you guessing and got a bit bewildering but she explained everything. Built characters you could identify with and evokes the setting without getting tiresome. Loved it and want to read more.
Review by pw0327
27/08/2015
This is my first foray in Alex Gray's writing. I am exploring the tartan noir genre of mysteries, after having been completely seduced by Ian Rankin and his Inspector Rebus series. This is what happens to people who runs out of Rebus to read and is jonesing to read more and can't wait for Rankin to churn a new book out. I was attracted to Inspector Lorimer because I am just a slight bit more familiar with Glasgow than I am with Edinburgh. Glasgow seem to be familiar territory as I had spent a wee bit of time there. This particular book started out promising enough. The story is being told in a number of voices representing a number of characters. Alex Gray followed the rules of good mysteries by introducing all the characters early, and not fall into the trap of introducing the antagonist at the very end, in order to bail herself out of a situation. A Small Weeping stood on its own, but just barely. A number of characters were introduced, Maggie, Lorimer's long suffering wife, the exchange detective from Florida, and a number of other police personnel as head fakes, people to distract the reader from the main plot. Which I believe is a problem, and I think Gray knew it as well. It wasn't that the plot was not believable, it was just not very well fleshed out. The plotting was thought out but the details of smoothly leading the reader through the plot was not very well done. Obviously it was well done enough to keep me reading, but I felt like I was being jerked around a bit by the author. There were many sudden shifts and surprises along the way, each was better developed than the previous, which showed that the author was working her way through her difficulties.In the end, it was a fine ending and gave me very nice head fake. So it wasn't a total exercise in frustration. I believe I will go on and read another Alex Gray mystery, but not quite yet. Too many other better books to read.