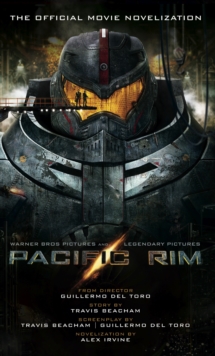 Pacific Rim : The Official Movie Novelization
Paperback
Description
When legions of monstrous creatures started rising from the sea, a war began that would take millions of lives and consume humanity's resources for years on end.
On the verge of defeat, the forces defending mankind have no choice but to turn to two unlikely heroes to pilot a legendary but obsolete robot from the past.
Together, they stand as mankind's last hope against the apocalypse.
Information
Format: Paperback
Pages: 400 pages
Publisher: Titan Books Ltd
Publication Date: 12/07/2013
Category: Science fiction
ISBN: 9781781166789
Free Home Delivery
on all orders
Pick up orders
from local bookshops
Reviews
Showing 1 - 3 of 3 reviews.
Review by s.michellehos
16/06/2015
I enjoyed everything about this book except for the ending.Having read the book before seeing the movie in theaters, I was pleased with the details included in the novelization. This book offers a clear view of the world in Pacific Rim and the characters that live therein. While it doesn't deviate from the main script of the movie, this book does give you a little bit of the history and a look into each character's minds.Now, sadly, for what I didn't like about this novel... [While the movie's ending was, in my opinion, perfect, the book ends with Raleigh and Mako kissing.The story told in Pacific Rim does not need to use a romantic relationship as a crutch, a theme which is so often found in movies these days. Pacific Rim is SO much more than romance, you have characters who are dealing with a world that no longer supports them and their endeavors to protect it; characters who are fighting to protect the family they created; and characters who don't know anything but a world ruled by the fear of a Kaiju attack.
Review by TPauSilver
16/06/2015
So...this book. I found it a hard kind of book to rate as, as movie novelizations go, it's actually pretty good. There is some deviance from the movie which is understandable as it's unlikely the author was working with the final cut. The biggest change I noticed was the beautiful scene at the end where Mako and Raleigh rest their heads together to celebrate being alive and has been much praised for avoiding the kiss becomes a kiss so I do now wonder where the decision was made to change that but, yeah, probably a problem of the author working from an earlier script and not an editorial choice on the author's part. Overall the writing is pretty good. I picked this up after seeing the movie as I hoped it would at least attempt to add a little back-story to fill the ridiculous plot holes. This is did not do. In fact the only major criticism I have of this book that is separate from my criticism of the movie is that it didn't add anything. Normally these novels give us at least a little extra material. There are a few extra details here but nothing particularly interesting. It sticks pretty damn close to the movie. But the writing's fine and it's not a bad thing for what it is. I will now hold forth with my two biggest problems with the movie and consequentially this book. 1. The science. I'm a scientist, I'm going to go for this. All of the science is deeply crap and the story shows a fundamental misunderstanding from everything from what science is to how it works to the things science has taught us. The dinosaurs were Kaiju? Really? You want me to buy that? This is one of the things I was hoping would be fixed but it's either marginally better in the movie or covered so quickly I missed the holes (I came away with the impression that Newt implied the Kaiju wiped out the dinosaurs, not that were dinosaurs. I don't know if that was just my brain trying to fill the gap)2 - The entire premise is this Jaeger program is going to be shut down because humanity has decided that killing the giant monsters is not working so instead they're going to build a really, really big wall and defund the giant robots. Because nothing ever breaks down a wall, ever. Walls are impervious to being knocked down and it's a miracle. The movie makes up for these and plenty more glaring plot idiocies with pretty, pretty graphics and some interesting characters but the book lacks the graphics and without the visual it just ain't as good. Oh, and since I'm on one, Mako Mori. I love Mako and she's brilliant and she wins her shit on her own merit and she's got her own plot and character but can we stop pretending she isn't problematic and there's nothing regressive about how she's handled. I'd love her a lot more if it weren't for all the people claiming she's perfect. The movie is a bit better but not a single scene in the novel is from behind her eyes and it's very clear that this is a story about Raleigh and Stacker Pentecost and about control of this woman passing from a protective father to a lover. She does get more autonomy in the movie but ultimately she only gets to fight because Raleigh wins her from her father, not becasue she's so exceedingly good, she's ultimately saved by the man and in the first drift it's her being too emotional and not being able to control herself that messes it up and how often do we see that leveled at a female characters (clue, all the time). So, yes, she's brilliant and well-realized and I love her but her ultimate major contribution to the story is to act as the object of oedipal power and be passed from one generation to the next. Apparently I have a lot of emotions about this. I'm done now, carry on.
Review by glitzandshadows
10/11/2015
yeah. it's a movie novelisation so the writing is fair - there are a few typos, but you know that doesn't even matter. This is one of the greatest stories. so yeah. <br/>yeah.