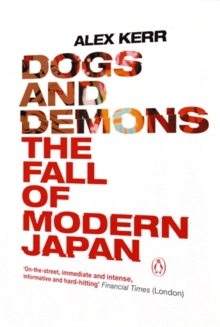 Dogs and Demons : The Fall of Modern Japan
Paperback
Description
The decades of Western adulation for the Japanese 'economic miracle' failed to notice a key point: that in the pursuit of this miracle the Japanese had turned their country into a degraded, concrete shambles - a wilderness of bad planning, corruption and crowding.
Now that the miracle is at an end and Japan seems set to remain in the economic doldrums it must become apparent to everyone that one of the world's greatest cultures has ruined itself almost beyond repair.
Alex Kerr's wonderful book conveys vividly and furiously both the dazzling nature of Japanese culture and how the bureaucrats of a country he loves have poisoned and ruined it.
Information
Format: Paperback
Pages: 448 pages
Publisher: Penguin Books Ltd
Publication Date: 16/02/2002
Category: Regional studies
ISBN: 9780141010007
Free Home Delivery
on all orders
Pick up orders
from local bookshops
Reviews
Showing 1 - 1 of 1 reviews.
Review by sinivalas42
16/06/2015
This book was published in 2001, and some things improved during the Koizumi and DPJ eras that have passed since then. However, much of the basic problem described remains, namely that Japan still runs on pork-barrel spending by unaccountable and not particularly competent ministries and their corporate cronies. Dogs and Demons is in principle a good introduction to that problem and its roots.However, while I found myself mostly agreeing with its general conclusions, the problem lies in how the book arrives at those conclusions. To put it bluntly, this book badly needs a cold-hearted editor and fact checker armed with chainsaws to work it over. As it stands, it is an unending parade of factoids cherry-picked to support the author's polemic. I often ended up skipping pages at a time when the author went off on a long, questionable digressions about P/E ratios, how manga and Hello Kitty symbolize the infantilization of culture or such. To make matters worse, some of these digressions appear in several chapters in slightly different guises.While Dogs and Demons is a much-needed antidote to the hype regarding Japanese customs, culture and economy (the latter has fortunately dissipated during the past 20 years, though it has still not entirely disappeared), I really can't recommend it as a book, especially for readers without some background knowledge regarding Japanese government and society. Even overlooking the huge number of loose facts of varying quality thrown at the reader, the torrent of barely-founded beside-the-point material is too staggering.That said, while investigating the background of some pronouncements, this book did lead me to some particularly tasty treasure troves of bureaucratic absurdity, such as the "Relocation of the Diet and Other Organizations" committee (running since 1992) of the Ministry of Land, Infrastructure, Transport and Tourism. It's like real-life Monty Python.