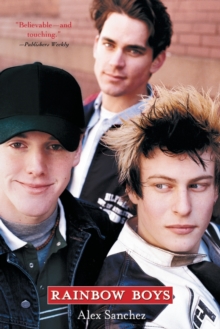 Information
Format: Paperback
Pages: 262 pages
Publisher: Simon & Schuster
Publication Date: 12/01/2003
Category: General
ISBN: 9780689857706
Free Home Delivery
on all orders
Pick up orders
from local bookshops
Reviews
Showing 1 - 5 of 13 reviews.
Previous | Next
Review by louisedoherty
16/06/2015
This work speaks directly to gay and questioning youth in an authentic voice. Nelson, loud and in-your-face out, is continually harassed by other students while adults look the other way; he is full of insecurity at the same time he exudes confidence. Kyle, a nice quiet swimmer, is afraid to confront his parents and wants to keep it quiet; Jason, basketball jock, finds the closet still can't protect him from his abusive father, and he is confused, afraid of the risk and in denial. Rainbow Boys tells the story of three different gay teens ("types?") who have all the usual teen angst (too fat, ugly braces, poor grades), combined with all the gay teen issues (coming out, parents, bullies) and so much more ( first sex, safe sex, first love, getting used, getting rejected, falling in love, therapy/help groups). The characters are well thought out and are imperfect (until the end) and real. I saw bits of many gay men I have known in their story…the beatings, the political activism, the depression and self loathing, the problems with dad. It reads well and really pulls you in; you care what happens to these characters.Overall I loved it, but at the end it seemed like Sanchez added in a couple of quick things, perhaps… suddenly it got little hokey, i.e. The GSA is approved "unanimously"; the sudden re appearance of Debra to tell Jason she accepts him and they can still be friends (this isn't boy meets boy!); the seeming ease with which Kyle and Jason came out in high school at the end lacked the credibility that had been present in the entire book before this. Still, it does not detract much from the work. I really enjoyed reading this book and I think it is good for all youth to read; either to validate your own experience or to gain a better understanding of what it is like to be a gay teen in high school. 11/06
Review by cmblume
16/06/2015
Perhaps the best gay novel geared towards the young adult-teen crowd. Sanchez presented a brutally honest protrayal of gay adolescents.
Review by writecathy
16/06/2015
2nd title picked up after reading the God Box and Sanchez has found a niche in gay teen fiction. Follows 3 boys--stereotyped as the jock, the normal boy next door, and the flaming proud, loud and out--then creates an interesting triangle with a handful of issues thrown in: AIDS, hate crimes, coming out, parental support (or lack thereof).The writing is a bit uneven at times (short sentences are almost too direct), and a few characters are introduced only to be left undeveloped. Also, some portions veer on the formulaic if you've read another of his works (movie theater!) and the book ends right at the point where you wish to continue reading... (portions of the middle could have been edited, felt he was trying to cover all issues to please everyone).Overall, a good read.
Review by hooray
16/06/2015
Not being a gay male, nor a teenage anymore, it was interesting and compelling to read about their social lives and issues. Attractive to an audience wider than the gay teen males it deals with, situations and relationships crop up that everyone can relate to. For teens, always wondering who they are and what goes on in other people's heads, this book provides an entertaining foil. The gay sex is portrayed no more erotic than the heterosexual pairings in other teen novels. And certainly nothing near as graphic as you'd find in adult fiction.
Review by Nwolfie5
16/06/2015
This book is a very accurate description of gay teen life. The three teens in this book span entirley different stereotypes and cliques. Nelson is openly gay, and quite obviously proud about it. He makes no effort in hiding it either, he's more of an outspoken, spontaneous character, and now has to deal with the AIDS/HIV issue. Kyle is what most people would consider "average". He's a star swimmer, and isn't quite comfortable with being gay. Jason is a star basketball player. Most people consider him a "jock". He has a girlfriend, but is realizing it's not girls he wants. These three boys try and help each other through very difficult times in their lives. A truly amazing book, a must read.