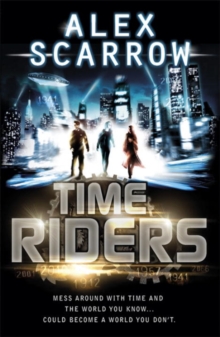 TimeRiders (Book 1)
Paperback
Description
This is book one in Alex Scarrow's exciting science fiction TimeRiders series.Liam O'Connor should have died at sea in 1912.Maddy Carter should have died on a plane in 2010.Sal Vikram should have died in a fire in 2029.Yet moments before death, someone mysteriously appeared and said, 'Take my hand . . .'But Liam, Maddy and Sal aren't rescued. They are recruited by an agency that no one knows exists, with only one purpose - to fix broken history. Because time travel is here, and there are those who would go back in time and change the past.
That's why the TimeRiders exist: to protect us. To stop time travel from destroying the world . . .The TimeRiders series:TimeRiders; Day of the Predator; The Doomsday Code; The Eternal War; Gates of Rome; City of Shadows; The Pirate KingsAlex's thrillers for adults:A Thousand Suns; Last Light; October Skies; Afterlight; The Candle Man
Information
Format: Paperback
Pages: 432 pages
Publisher: Penguin Books Ltd
Publication Date: 28/11/2009
ISBN: 9780141326924
Other Formats
EPUB from £3.99
eAudiobook MP3 from £8.80
Free Home Delivery
on all orders
Pick up orders
from local bookshops
Reviews
Showing 1 - 4 of 4 reviews.
Review by StevePalmer
16/06/2015
Fast paced science fiction tale about the perils of time travel and a secret organisation that is tasked with making sure time travellers do not alter history. The characters are thin, so is the plot (with many gaping holes by the end) and many missed opportunities to examine what is 'real' history. That said it is gripping and you do, just about, want to know how it all works out.
Review by teebag180
16/06/2015
It's an OK book with an interesting idea, but I just couldn't really relate to any of the characters, perhaps they just weren't developed enough for me or hold any interest (?) I didn't feel any connection or care for them. -some of the characters sayings got annoying toward the end as well.They all seem to accept what was happening (or had happened) so easily - despite the fact that some of them really shouldn't - and I felt the main character seemed to know more about History than they rightly should considering he was recruited from a timeline well before the event he was investigating. These and other things left MANY unanswered questions and I nearly put it down a few times HOWEVER the idea of the story I found was interesting and the very short chapters helped me avoid this. it was very easy to read quite a few chapters at a time because of their length so I found I was reading more than I realised, I think if it had, had huge chapters I may have just given in.I give it between 2.5 - 3 because about half of it was interesting to read but I think (for me) better/more interesting character development would have raised the rating. I'd say if you can get it very cheap (like I did) give it a go because some of it was good. I see other reviewers have liked it more than I did but I personally like to have more interest in the characters -not so much in this book as some of the other books I have read.I haven't decided yet if I am going to read the follow up to this, if I can find a preview of it (like the first chapter or something) and it reads a bit better than this one I may give it a go but I would definitely like to read some of it first before buying the next one.
Review by ArkhamReviews
16/06/2015
I found the novel to be a quick and easy read. The short chapters cause the story to flow swiftly and it did not take long for the story to become very exciting. However, I was irritated by the numerous nagging plot holes. It seemed as though that as soon as I started picking at one plot thread, the whole concept began to fall apart.I've gone into this at length on my blog (and want to avoid spoilers here) so I will be brief, but the single string time travel mechanic that Scarrow has adopted leads to some causal problems within the story. This is most evident during the portion set in Dallas, where I could not understand why they could keep running the same scenario without running into past versions of themselves.In addition to this, I found the female cast members to be a little bland. Although Liam received a lot of character development in the story but neither Sal nor Maddie seemed to change beyond my immediate impression of them.All in all, it was enjoyable enough for a bit of light reading, but felt decidedly average overall.
Review by kenzen
16/06/2015
Boring YA novel. And of course it's... it's always him.
Also in the TimeRiders series | View all