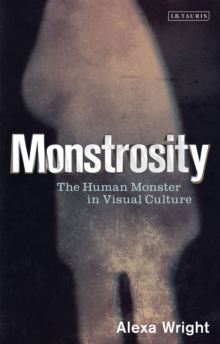 Monstrosity : The Human Monster in Visual Culture
Paperback / softback
Description
From the 'Monster of Ravenna' to the 'Elephant Man', Myra Hindley and Ted Bundy, the visualisation of 'real', human monsters has always played a part in how society sees itself.
But what is the function of a monster? Why do we need to embody and represent what is monstrous?
This book investigates the appearance of the human monster in Western culture, both historically and in our contemporary society.
It argues that images of real (rather than fictional) human monsters help us both to identify and to interrogate what constitutes normality; we construct what is acceptable in humanity by depicting what is not quite acceptable.
By exploring theories and examples of abnormality, freakishness, madness, otherness and identification, Alexa Wright demonstrates how monstrosity and the monster are social and cultural constructs.
However, it soon becomes clear that the social function of the monster - however altered a form it takes - remains constant; it is societal self-defence allowing us to keep perceived monstrosity at a distance. Through engaging with the work of Michel Foucault, Julia Kristeva and Canguilhem (to name but a few) Wright scrutinises and critiques the history of a mode of thinking.
She reassesses and explodes conventional concepts of identity, obscuring the boundaries between what is 'normal' and what is not.
Information
Format: Paperback / softback
Pages: 224 pages, 41 integrated bw
Publisher: I.B. Tauris & Co. Ltd.
Publication Date: 30/05/2013
Category: Theory of art
ISBN: 9781780763361
Free Home Delivery
on all orders
Pick up orders
from local bookshops