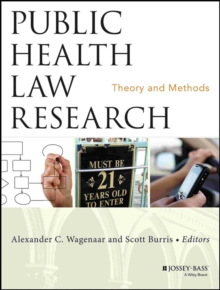 Public Health Law Research : Theory and Methods
Paperback / softback
Description
Public Health Law Research: Theory and Methods definitively explores the mechanisms, theories and models central to public health law research - a growing field dedicated to measuring and studying law as a central means for advancing public health. Editors Alexander C. Wagenaar and Scott Burris outline integrated theory drawn from numerous disciplines in the social and behavioral sciences; specific mechanisms of legal effect and guidelines for collecting and coding empirical datasets of statutory and case law; optimal research designs for randomized trials and natural experiments for public health law evaluation; and methods for qualitative and cost-benefit studies of law..
They also discuss the challenge of effectively translating the results of scientific evaluations into public health laws and highlight the impact of this growing field. "How exactly the law can best be used as a tool for protecting and enhancing the public's health has long been the subject of solely opinion and anecdote.
Enter Public Health Law Research, a discipline designed to bring the bright light of science to the relationships between law and health.
This book is a giant step forward in illuminating that subject." -- Stephen Teret, JD, MPH, Professor, Director, Center for Law and the Public's Health, Johns Hopkins Bloomberg School of Public Health "Wagenaar and Burris bring a dose of much needed rigor to the empirical study of which public health law interventions really matter, and which don't." -- Bernard S.
Black, JD, Chabraja Professor, Northwestern University Law School and Kellogg School of Management Companion Web site: www.josseybass.com/go/wagenaar