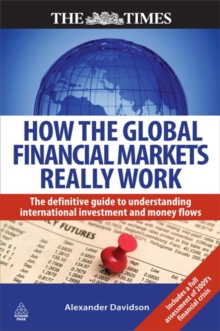 How the Global Financial Markets Really Work : The Definitive Guide to Understanding International Investment and Money Flows
Paperback / softback
Description
With EU legislation, the increasing reach of the US economy, greater flexibility of financial instruments, and M&A activity across borders, financial markets are becoming ever more international.
Overshadowing them all is the spectre of the credit crunch - a global tsunami that stemmed originally from the subprime mortgage crisis in the US but quickly became a global issue, hitting both international money markets and high street lending. How the Global Financial Markets Really Work brings clarity and sense to an often complex international environment, showing how circumstances in one country can have a dramatic effect on the financial environment in many others.
The book examines financial markets as they are today - global and, for better or worse, interlinked and inter-dependent.
It covers the markets of the US and Europe, as well as other key financial centres around the world, such as Hong Kong and Sydney, but will also offer insight to the unique issues facing emerging markets, including Eastern Europe, China, India and the United Arab Emirates.
Information
Format: Paperback / softback
Pages: 320 pages
Publisher: Kogan Page Ltd
Publication Date: 03/07/2009
Category: International economics
ISBN: 9780749453930
Also by Alexander Davidson