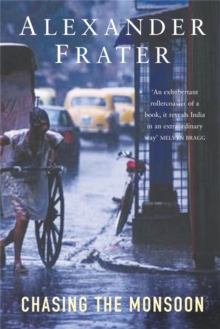 Chasing the Monsoon : A Modern Pilgrimage Through India
Paperback
Description
On 20th May the Indian summer monsoon will begin to envelop the country in two great wet arms, one coming from the east, the other from the west.
They are united over central India around 10th July, a date that can be calculated within seven or eight days.
Alexander Frater aims to follow the monsoon, staying sometimes behind it, sometimes in front of it, and everywhere watching the impact of this extraordinary phenomenon.
During the anxious period of waiting, the weather forecaster is king, consulted by pie-crested cockatoos, and a joyful period ensues: there is a period of promiscuity, and scandals proliferate.
Frater's journey takes him to Bangkok and the cowboy town on the Thai-Malaysian border to Rangoon and Akyab in Burma (where the front funnels up between the mountains and the sea).
His fascinating narrative reveals the exotic, often startling, discoveries of an ambitious and irresistibly romantic adventurer.
Information
Format: Paperback
Pages: 288 pages
Publisher: Pan Macmillan
Publication Date: 06/05/2005
Category: Travel writing
ISBN: 9780330433136
Other Formats
EPUB from £4.79
eAudiobook MP3 from £19.28
Free Home Delivery
on all orders
Pick up orders
from local bookshops
Reviews
Showing 1 - 2 of 2 reviews.
Review by Nandakishore_Varma
16/06/2015
This is, without doubt, the most fascinating travelogue I have ever read. Frater follows the monsoon from its genesis in Kerala up to Cherrapunji in Assam, the wettest place on earth: in the process, he gives fascinating insights about India, the monsoon, India the monsoon (a strange entity!) and human nature in general. His writing is wryly humorous (without being sarcastic) and sympathetic at the same time.<br/><br/>Being from Kerala, I know and love the monsoon. So it was all the more enjoyable for me. As I read the book, I could almost smell the smell of the first rains on parched soil, what we call "the smell of new earth".<br/><br/>Highly recommended.
Review by maximnoronha
27/08/2015
This book surprisingly failed to engage me. I know what they say about the cover and the title, but I still got fooled. Without analyzing too much, I think one reason could be because I shifted from my kindle to the paperback edition I owned, with really small font size to boot, and I had to read most of this one lying down because I had hurt my back. That may have affected my concentration in no small measure. Or maybe I just wasn't interested. <br/><br/>The passages to do with description of the weather are well written, but how many of those can you take? But they were few and far between. I think what also did me in were the frequent lapses into entire passages from books with "olde" english, with facts and tid-bits perhaps interesting to researchers, but something I had little interest in. I could at best only scan those to get back on track. I did read 'em but I wasn't paying attention. A good bit of the book was about the author trying to obtain permission to get to Cherrapunji. <br/><br/>I wish the entire book was like the last chapter. It would have been more readable. This one was a very tough exercise in trying to get the book over with. I only persisted because I'd bought the damn thing. Hodja's Peppers.