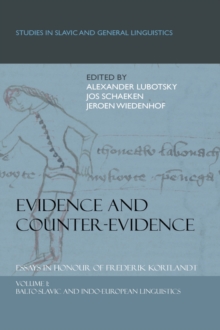 Evidence and Counter-Evidence: Essays in Honour of Frederik Kortlandt, Volume 1 : Balto-Slavic and Indo-European Linguistics
Hardback
Description
The editors PREFACE LIST OF PUBLICATIONS BY FREDERIK KORTLANDT ?driaan Barentsen: O S?P?STAVI?EL'N??
IZUC?NII ?GR?NICI??L'NY? VR???NNY? S?JUZ?V SL?VJANS?I? JAZY??V Robert S.P. Beekes: PALATALIZED CONSONANTS IN PRE-GREEK Uwe Blasing: TALYSCHI RIZ 'SPUR' UND VERWANDTE: EIN BEITRAG ZUR IRANISCHEN WORTFORSCHUNG Vaclav Blazek: CELTIC 'SMITH' AND HIS COLLEAGUES Johnny Cheung: THE OSSETIC CASE SYSTEM REVISITED Bardhyl Demiraj: ALB.
RRUSH, ON RAGUSA UND GR. RHOKS Rick Derksen: QUANTITY PATTERNS IN THE UPPER SORBIAN NOUN George E.
Dunkel: LUVIAN ?TAR AND HOMERIC ?? AR Jose L. Garcia Ramon: ERERBTES UND ERSATZKONTINUANTEN BEI DER REKONSTRUKTION VON INDOGERMANISCHEN KONSTRUKTIONSMUSTERN: IDG. *G' HEU- UND HETH. LAHU-HHI 'GIESSEN' Eric P. Hamp: INDO-EUROPEAN *SG'HEDHLA Andries van Helden: IS CASE A LINGUIST OR A FREDERIK?Tette Hofstra: AUS DEM BEREICH DER GERMANISCH-OSTSEEFINNISCHEN LEHNWORTFORSCHUNG: UBERLEGUNGEN ZUR ETYMOLOGIE VON FINNISCH RYTAKKA 'KRACH' Georg Holzer: STRUKTURELLE BESONDERHEITEN DES URSLAVISCHEN Wim Honselaar: REFLECTIONS ON RECIPROCITY IN RUSSIAN AND DUTCH Laszlo Honti: 'TIBI LIBER EST' ~ 'HABES LIBRUM' (BEMERKUNGEN ZUR HERKUNFT DER HABITIVEN KONSTRUKTIONEN IM URALISCHEN) Peter Houtzagers: ON THE CAKAVIAN DIALECT OF KOLJNOF NEAR SOPRON Petri Kallio: ON THE "EARLY BALTIC" LOANWORDS IN COMMON FINNIC Janneke Kalsbeek: THE QUANTITY OF THE VOWEL I IN STIPAN KONZUL'S KATEKIZAM (1564) Jared S.
Klein: INTERROGATIVE SEQUENCES IN THE RIGVEDA Jorma Koivulehto: FRUHE SLAVISCH-FINNISCHE KONTAKTE Leonid Kulikov: THE VEDIC TYPE PATAYATI REVISITED: SEMANTIC OPPOSITIONS, PARADIGMATIC RELATIONSHIPS AND HISTORICAL CONNECTIONS Winfred P.
Lehmann: LINGUISTIC LAWS AND UNIVERSALS: THE TWAIN. Alexander Lubotsky: VEDIC 'OX' AND 'SACRIFICIAL CAKE' Ranko Matasovic: THE ORIGIN OF THE OLD IRISH F-FUTURE H. Craig Melchert: PROBLEMS IN HITTITE PRONOMINAL INFLECTION Cecilia Ode: COMMUNICATIVE FUNCTIONS AND PROSODIC LABELLING OF THREE RUSSIAN PITCH ACCENTS Norbert Oettinger: AN INDO-EUROPEAN CUSTOM OF SACRIFICE IN GREECE AND ELSEWHERE Harry Perridon: RECONSTRUCTING THE OBSTRUENTS OF PROTO-GERMANIC Georges-Jean Pinault: TOCHARIAN FRIENDSHIP ?driana Pols: ROZDENIE SLOVARJA Arend Quak: ARCHAISCHE WORTER IN DEN MALBERGISCHEN GLOSSEN DER 'LEX SALICA' Jos Schaeken: NOCHMALS ZUR AKZENTUIERUNG DER KIEVER BLATTER Rudiger Schmitt: ZU DER FREMDBEZEICHNUNG ARMENIENS ALTPERS.
ARMINA- Patrick Sims-Williams: THE PROBLEM OF SPIRANTIZATION AND NASALIZATION IN BRITTONIC CELTIC Han Steenwijk: THE MICROSTRUCTURE OF THE RESIANICA DICTIONARY Michiel de Vaan: SANSKRIT TRIDHA AND TREDHA William R.
Veder: NON SECUNDUM SCIENTIAM: READING WHAT IS NOT THERE Theo Vennemann gen.
Nierfeld: MUNZE, MINT, AND MONEY: AN ETYMOLOGY FOR LATIN MONETA.
WITH APPENDICES ON CARTHAGINIAN TANIT AND THE INDO-EUROPEAN MONTH WORD Willem Vermeer: THE PREHISTORY OF THE ALBANIAN VOWEL SYSTEM: A PRELIMINARY EXPLORATION Jos J.S.
Weitenberg: DIPHTHONGIZATION OF INITIAL E- AND THE DEVELOPMENT OF INITIAL Y- IN ARMENIAN
Information
Format:Hardback
Pages:616 pages
Publisher:Brill
Publication Date:01/01/2008
Category:
ISBN:9789042024700
Also in the Studies in Slavic and General Linguistics series | View all