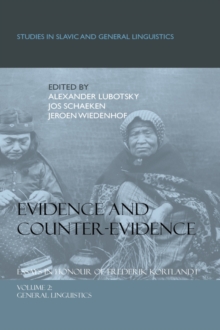 Evidence and Counter-Evidence: Essays in Honour of Frederik Kortlandt, Volume 2 : General Linguistics
Hardback
Description
Contents The Editors: Preface List of Publications by Frederik Kortlandt Willem ADELAAR: Towards a Typological Profile of the Andean Languages Elisabeth DE BOER: The Origin of Alternations in Initial Pitch in ihe Verbal Paradigms of the Central Japanese (Kyoto Type) Accent Systems V.A.
CHIRIKBA: Armenians and their Dialects in Abkhazia Katia CHIRKOVA: On the Position of Baima within Tibetan: A Look from Basic Vocabulary Karen STEFFEN CHUNG: Living (Happily) with Contradiction George van DRIEM: The Language Organism: Parasite or Mutualist?
Roger FINCH: Mongolian /-gar/ and Japanese /-gar-/ Stefan GEORG: Yeniseic Languages and the Siberian Linguistic Area Ekaterina GRUZDEVA: How to Orient Oneself on Sakhalin: A Guide to Nivkh Locational Terms C. HOEDE: Knowledge Graph Analysis of Particles in Japanese Henning KLOTER: Facts and Fantasy about Favorlang: Early European Encounters with Taiwan's Languages Maarten KOSSMANN: Three Irregular Berber Verbs: 'Eat', 'Drink', 'Be Cooked, Ripen' Riikka LANSISALMI: Teaching Personal Reference in Japanese Elena MASLOVA: Dual Nominalisation in Yukaghir: Structural Ambiguity as Semantic Duality Roy Andrew MILLER: The Altaic Aorist in *-Ra in Old Korean Marc Hideo MIYAKE: Avoiding Abba: Old Chinese Syllabic Harmony Maarten MOUS: Voice in Tunen: The So-Called Passive Prefix Be- Irina NIKOLAEVA: Chuvan and Omok Languages?
Martine ROBBEETS: If Japanese is Altaic, How can it be so Simple?
Elena SKRIBNIK: Buryat Evaluative Constructions Harry STROOMER: Three Tashelhiyt Berber Texts from the Arsene Roux Archives Arie VERHAGEN: Syntax, Recursion, Productivity - A Usage-Based Perspective on the Evolution of Grammar Jeroen WIEDENHOF: Language, Brains and the Syntactic Revolution
Information
Format:Hardback
Pages:428 pages
Publisher:Brill
Publication Date:01/01/2008
Category:
ISBN:9789042024717
Also in the Studies in Slavic and General Linguistics series | View all