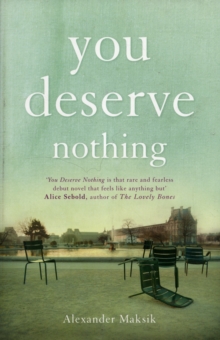 You Deserve Nothing
Hardback
Description
Set in an international high school in Paris, You Deserve Nothing is told in three voices: that of Will, a charismatic young teacher who brings ideas alive in the classroom in a way that profoundly affects his students; Gilad, one of Will's students who has grown up behind compound walls in places like Dakar and Dubai, and for whom Paris and Will's senior seminar are the first heady tastes of freedom; and Marie, the beautiful, vulnerable senior with whom, unbeknowst to Gilad, Will is having an illicit affair. Utterly compelling, brilliantly written, You Deserve Nothing is a captivating tale about teachers and students, of moral uncertainties and the coming of adulthood.
It heralds the arrival of a brilliant new voice in fiction.
Information
Format: Hardback
Pages: 320 pages
Publisher: Hodder & Stoughton General Division
Publication Date: 01/09/2011
ISBN: 9781848545700
Other Formats
Paperback from £7.85
EPUB from £5.99
Free Home Delivery
on all orders
Pick up orders
from local bookshops
Reviews
Showing 1 - 3 of 3 reviews.
Review by SmithSJ01
16/06/2015
There are three narrators in this novel, we meet Will who is a young teacher trying to instil a love of literature in his students in such a way they are all affected; then we meet Gilad who is one of his students and having led his life in Dakar and Dubai, Paris brings a sense of freedom that Gilad finds heady yet rewarding. Finally there is Marie, whom embarks on an affair with Will which has an effect on Gilad. The second two thirds of the novel move at such a remarkable pace I was carried away by the narrative, which came as such a surprise as up until this point it was slightly dull and lacked vigour. I even, in the first third, was lost as to who was speaking – if I didn't keep my book mark at the title page of each chapter I couldn't initially tell from the narrative who the character was. Even though you already know as the reader how the novel has to end, the journey is interesting and for a moment I actually wondered if my predictions were going to be wrong. It is well written but doesn't get the five stars from me simply because it took so long for anything to actually happen – by this I don't mean the affair, I simply mean for something to move on in the story. Good descriptions on Parisian life, for those who enjoy such prose, I however found they sometimes detracted from the story. The only time I found it helpful was when Gilad was trying to establish himself firmly in Will's mind later on in the novel.A book I'd happily recommend, very easy to read and a nice one to curl up with if you haven't got very much going on as I think it is better read in as few sittings as possible.
Review by kiwifortyniner
16/06/2015
I did enjoy this book. The three narrators are Will a teacher at the international school in Paris, Gilad one of his students, and Marie a student with whom Will has an affair. Will is a popular but at the same time unconventional teacher who brings ideas into the classroom that will have a profound effect on the students, Gilad being one example.. The students needless to say expect Will to be able to live up to the ideals that he is expousing and it proves somewhat of a disappointment to them when he is found to be lacking. Will talks about us being able to "travel the distance between desire and action" and therefore stand up for what we believe in but it porves to be something that he himself cannot do when the situation arises. The title is an apt one to me which makes the ending somewhat predictable but there were occasional moments when you wondered if it thigs would work out. I guess I felt a bit angry at Will that he would throw everything away by his actions. He was a great teacher. But I also felt angry that all the blame was laid at his door, and that Maries was held to be blamless when I saw her as the seductress initially at least.. It was a well written book that kept me interested. Worth reading
Review by JeaniaK
27/08/2015