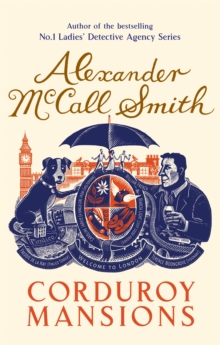 Corduroy Mansions : 1
Paperback
Description
Welcome to Corduroy Mansions in Pimlico: a temple of Arts and Crafts architecture, with comforting, weathered brickwork and frankly frivolous dormer windows, it is home to a delightfully eccentric cast of Londoners. In the top flat lives William, with a faithful ex-vegetarian dog named Freddie de la Hay and a freeloading son who he hopes will soon fly the nest.
Four lively young women share the first-floor flat, including twinset-and-pearls Caroline from Cheltenham, Dee, vitamin addict and avid subscriber to Anti-oxidant News, and Jenny, a put-upon PA. And round the corner lives Oedipus Snark MP, possibly the world's only loathsome Lib Dem, who has succeeded in offending everyone he knows, and many others besides.
But what dark revenge is being plotted by his mother, Berthea Snark, and by his girlfriend, Barbara Ragg...?
Information
Format: Paperback
Pages: 352 pages, Illustrations
Publisher: Little, Brown Book Group
Publication Date: 06/05/2010
ISBN: 9780349122397
Free Home Delivery
on all orders
Pick up orders
from local bookshops
Reviews
Showing 1 - 4 of 4 reviews.
Review by thorold
16/06/2015
The mixture as usual from McCall Smith - great comfort reading, a few clever lines and some nice comic set-pieces, but nothing remotely unexpected. You'd have thought he could have tried a bit harder to conceal that this is <i>44 Scotland Street</i> moved to London. The change of setting means that we miss out on the deep affection for Edinburgh and its residents that is such a large part of the charm of McCall Smith's other books, but we don't seem to get anything new to replace it. There's certainly no real flavour of "London-ness" about the book. McCall Smith is evidently so used to writing serials that he doesn't even bother to tie up his plot lines any more, something that gives the structure of the book a rather unsatisfying feel. Worth reading if you happen to find a copy on a friend's shelves, but not worth spending money on, I would say.
Review by JulesJones
16/06/2015
Gently funny episodic novel about the inhabitants of Cordury Mansions, a Pimlico apartment block built in the early twentieth century and currently providing a comfortable home to a variety of tenants. It's good-natured and enjoyable, but about two-thirds of the way through I found that it simply wasn't holding my interest any longer, in part because it didn't feel as if there would be any resolution to any of the storylines. I put it down for a while, and find myself disinclined to pick it up and finish it. At this point I'm declaring it a DNF. I think I would probably enjoy this as an audiobook better than I would as a print book.
Review by Neale
16/06/2015
An enjoyable read. It promised more than it delivered. A few too many loose ends. Some of it reminded me of Ben Elton.
Review by Helenliz
16/06/2015
I see that this was originally published as a series of amusing short articles in a newspaper, and I can see how that works. I'm not sure it necessarily works as a novel. It uses a mansion block of flats in london, the Corduroy Mansions of the title, as the thread to string the story together. So you meet William, Eddie (his son), Marcia (who's like to be Willaim's significant other) Freddie de la Haye (William's dog) and a host of other inhabitants, employers, friends, and so on of the people who live in the flat. In some ways it doesn't work as a novel as it jumps about too much, you'll be following the Berthea/Terrence thread, then suddenly move to follow Caroline & James (who have a complicated relationship). Few of the characters achieve any resolution, few of the storylines are settled by the end of this series of writings. It was fun, with all ranges of human (and canine) emotions, but I'm not sure that this format sets it off to best advantage.
Also by Alexander McCall Smith | View all