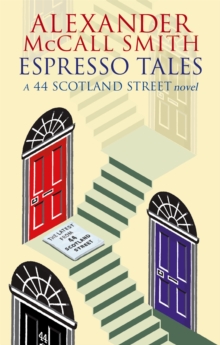 Description
In Espresso Tales, Alexander McCall Smith returns home to Edinburgh and the glorious cast of his own tales of the city, the residents of 44 Scotland Street, with a new set of challenges for each one of them.
Bruce, the intolerably vain and perpetually deluded ex-surveyor, is about to embark on a new career as a wine merchant, while his long-suffering flatmate Pat MacGregor, set up by matchmaking Domenica Macdonald, finds herself invited to a nudist picnic in Moray Place in the pursuit of true love.
Prodigious six-year-old Bertie Pollock wants a boy's life of fishing and rugby, not yoga and pink dungarees, and he plots rebellion against his bossy, crusading mother Irene and his psychotherapist Dr Fairbairn.
But when Bertie's longed-for trip to Glasgow with his ineffectual father Stuart ends with Bertie taking money off legendary Glasgow hard man Lard O'Connor at cards, it looks as though Bertie should have been more careful what he wished for. And all the time it appears that both Irene Pollock and Dr Fairbairn are engaged in a struggle with dark secrets and unconscious urges of their own.
Information
Format: Paperback
Pages: 352 pages
Publisher: Little, Brown Book Group
Publication Date: 01/04/2006
ISBN: 9780349119700
Free Home Delivery
on all orders
Pick up orders
from local bookshops
Reviews
Showing 1 - 5 of 8 reviews.
Previous | Next
Review by johnthefireman
16/06/2015
An excellent book, very readable and quiet insightful. I believe it's the second book in a series and I was delighted to find that it can be read by itself without having seen the first book. I like the concept that it was first published in instalments in a newspaper and there has been interaction with the public as to its development.In his introduction the author mentions that some readers find some characters annoying. I found most of them irritating. They are so pretentious. Do they really represent society in Edinburgh, or the UK more generally, these days? I've been away from UK for too long to really understand what is meant by the "chattering classes", but it seems to me that most of the characters in this books should fall under this term. Reminds me of Private Eye's "It's grim up north (London)" strip cartoon. What a bunch of posers. But disliking the characters is not the same as disliking the book, which I really enjoyed.
Review by camelot2302
16/06/2015
There seems to be a curse that strikes the second part of anything, whether it be Lord of the Rings, Star Wars or Alexander McCall Smith's Scotland Street books. Part two is NEVER as good as part one! You can travel the whole world and everyone will always say "part two was OK but not as good as part one!"I felt at times that the story in this book dragged on a bit. I felt myself skipping pages at times. Irene Pollock is a really annoying bitch who I want to slap and Bruce is just his arrogant little self. Pat can't do anything without arguing and second-guessing with herself and Dr Fairbairn is just downright irritating!Which leaves the star of the show - Bertie! Bertie was just great in this book. It was extremely funny when he decides to speak Scots just to annoy his mother (or "maither" as Bertie would say) and when he asked a Glasgow gangster if he ate "deep-fried Mars Bars like everyone else in Glasgow", I almost choked on my cup of tea.So thank you Bertie for saving the book and giving me a laugh. The rest of you can move out of Scotland Street. Don't worry, you won't be missed.
Review by thorold
16/06/2015
Espresso Tales, published in 2005, is the second book to come out of Alexander McCall Smith's serial 44 Scotland Street, originally published in daily instalments in The Scotsman newspaper.As a serial novel, centred around a group of characters living in an apartment building, celebrating the culture of a very individualistic city, and written with a playful irony that does nothing to hide a warm, liberal humanist belief in the fundamental goodness of human nature, comparisons with Armistead Maupin are difficult to avoid. But McCall Smith isn't just rehashing Tales of the City: he has reinvented the form in a very Edinburgh sort of way. It is quite appropriate that from time to time he lets his inner professor pop out and lecture us, usually through the Arbroath autodidact, Big Lou, who is still steadily working her way systematically through the unsold stock of a failed secondhand bookshop.The character who really stands out in this book is Bertie, the six year-old prodigy whose mother, Irene, is determined to push him to the maximum. Bertie just wants to have the chance to do little boy things, and is cunning enough to undermine many of Irene's schemes. (This book also provides the surprising answer to the mystery of where Bertie's parents parked the Volvo, a question left open at the end of the first book.) Pat, Bruce and Domenica are back too, but they don't get as much to do as in the first book. The nudist picnic in Moray Place, which initially sounds as though it is going to be the big scene in the present book, turns out to be something of an anti-climax, entirely eclipsed by the resolution of the Great Volvo Mystery.I only know Edinburgh as a tourist, and I'm sure that locals would get even more fun out of all the local references here. But even as an outsider, this is great fun, and leaves me eager to try the next instalment.
Review by Eruntane
16/06/2015
I love Alexander McCall Smith's books. They're as warm and satisfying as a cup of (bush) tea, and the two go very well together too! This was another great installment from 44 Scotland Street, and the characters are as loveable or as love-to-hateable as ever, from the infuriatingly arrogant Bruce (I was so happy when Sharon managed to put him down, albeit only for a short while) to Domenica (what will we do without her while she's away?) via Irene Pollock (stupid, irritating woman, why can't she see how miserable she's making Bertie?). There were a couple of episodes that probably would have been a little dry on their own in the paper, but that didn't matter when they were all collected together. And the ending was a bit unexpected - I know that the status quo is largely maintained because there are another two books, but still some big changes are in the air. I look forward to seeing how things progress in Love Over Scotland.
Review by JacqiB
16/06/2015
I hadn't realised, when I picked up this book by the author of The Number One Ladies Detective Agency series that this was the second of a new series. I've not read the TNOLDA, I'd heard some of it serialised on Radio 4 and really didn't like it. However, this is quite different, with characters who are reasonably rounded. I did feel interested in the characters even if it was rather silly in places.
Also by Alexander McCall Smith | View all
Also in the 44 Scotland Street series | View all