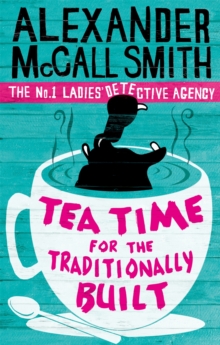 Tea Time for the Traditionally Built
Paperback
Description
It is a troublesome fact on which even Mma Ramotswe and her assistant Mma Makutsi agree: there are things that men know and ladies do not, and vice versa.
It is unfortunate, for example, when Mma Ramotswe's newest client is the big-shot owner of the ailing Kalahari Swoopers, that one thing lady detectives know very little about is football. And when the glamorous Violet Sephotho sets her sights on Mma Makutsi's unsuspecting fiance, it becomes exasperatingly clear that some men do not know how to recognise a ruthless Jezebel even when she is bouncing up and down on the best bed in the Double Comfort Furniture Shop. In her attempt to foster understanding between the sexes and find the traitor on Mr Football's team, Mma Ramotswe ventures into new territory, drinks tea in unfamiliar kitchens and learns to trust in the observational powers of small boys. And, as wise and warm-hearted as his heroine, Alexander McCall Smith reminds us that we must dig deep to uncover the goodness of the human heart.
Information
Format: Paperback
Pages: 272 pages
Publisher: Little, Brown Book Group
Publication Date: 01/01/2010
ISBN: 9780349119977
Free Home Delivery
on all orders
Pick up orders
from local bookshops
Reviews
Showing 1 - 5 of 5 reviews.
Review by eleanor_eader
16/06/2015
I zipped through this in an afternoon, which is rather sad, because this entire series is worth becoming immersed in and reading slowly, and with relish, but is a testament to the undemanding writing style of Alexander McCall Smith's entire <i>Ladies #1 Detective Agency</i> series. I think this book may have had a little less substance then the previous ones, with less peripheral plot-lines and character-appearances hence the speed-read, but it is, nevertheless, a warm and welcome addition to the growing pile of these books on my shelf.In this latest (for me, 'tho in fact I'm a book behind) instalment, Precious Ramotswe and her assistant detective have to investigate the humiliating losing streak of the country's top football team. Meanwhile, her beloved little white van has made it's last interesting noise, to her surprisingly strong grief. There is also the matter of Mma. Makutsi's arch nemesis, Violet Sephotho, who has landed herself a sales job at the Double Comfort Furniture Store, working – and angling – for Grace's fiancé.Not my favourite of these books, simply because there seemed to be less peripheral exploration which is one of the things that has made me very fond of the series… the gentle and almost completely pointless visitation of one character or other's life or state of mind. But as always, utterly readable and very… nice.
Review by isabelx
16/06/2015
For her part, Mma Ramotswe did not stand on ceremony; nor did she try to give anybody the impression that the business was larger and grander than it really was. "People will judge us by our results," she said to Mma Makutsi. "Results are the important thing."Mma Makutsi contemplated this. "That is a pity, Mma," she observed. "Because our results are sometimes not very good."Mma Ramotswe shook her head. "But I think they are, Mma. Sometimes we do not find out exactly what clients want, but we find out what they need to know. There is a difference, you know."Mma Ramotswe is hired by the owner of a local football team the Kalahari Swoopers to find out why his team are no longer winning, while the devious Violet Sephotho takes a job in the bed department at Phuti Rhadiphuti's furniture shop, leaving Mma Makutsi distraught at the thought that Violet is planning to steal her fianceIf you've been enjoying this series, you need to read this book, even if it's only to discover the name of the younger apprentice at Tlokweng Road Speedy Motors.
Review by Neale
16/06/2015
Another good story in this consistent series. Two main characters both face challenges and get help in solving the mystery and the challenges.
Review by Noofy
16/06/2015
My favourite bit of this book was the scene where Mma Ramotswe is worried about Mr. J.L.B. Matekoni coming home late from work. Her love for him is something that is never specifically addressed before, being implied rather than spelt out, and the scene where she rushes from the car to greet him was very touching.The book itself as a whole was different from the others in the series. The cases that Mma Ramotswe solves are both slightly anti-climactic in their endings, fizzling out in a rather rushed manner. The focus in the book is more on exploring relationships so the cases are naturally given a back seat; however you are left feeling that the book should be longer in order to fully detail the cases. Again, other characters are given development - Mma Makutsi continues to have some chapters told from her point of view (the weakest parts in my opinion as I struggle to like her character), and it is nice to get some insight into the character of the second apprentice. I get the impression that his story will be addressed again in future.However, this slight shortfall doesn't ruin the book and this is a nice continuation of a very enjoyable series.
Review by DramMan
16/06/2015
Another charming, entertaining collection of stories featuring Mma Ramotswe and the cast of characters in the No 1 Ladies' Detective Agency
Also by Alexander McCall Smith | View all
Also in the No. 1 Ladies' Detective Agency series | View all