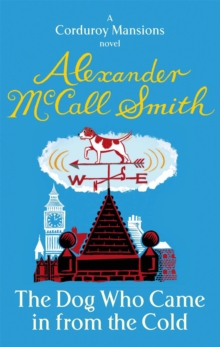 The Dog Who Came in from the Cold
Paperback
Description
In the genteel environs of Corduroy Mansions, Pimlico, strange doings are afoot, mostly in the name of love.
Lonely William French and his faithful canine Freddie are recruited to the service of MI6 by a beguiling lady operative, William's neighbour Caroline finds her suitor James mysteriously lacking, and Barbara Ragg is tempted to the Highlands by blossoming romance.
Meanwhile sage psychiatrist Berthea Snark, under normal circumstances the voice of reason, finds herself called away to protect her brother from a band of scheming New Age fraudsters seeking to insert themselves into the bosom of the family.Hilarious and affectionate, The Dog Who Came In from the Cold rejoins Alexander McCall Smith's delightful London tribe of loveable misfits and hopefuls in a new set of adventures in life, love and philosophy.
Information
Format: Paperback
Pages: 352 pages
Publisher: Little, Brown Book Group
Publication Date: 22/03/2011
ISBN: 9780349123219
Free Home Delivery
on all orders
Pick up orders
from local bookshops
Reviews
Showing 1 - 2 of 2 reviews.
Review by CloggieDownunder
16/06/2015
The Dog Who Came In From The Cold is the second in the Corduroy Mansions series by Alexander McCall Smith. Once again we join the people of Corduroy Mansions and their friends. An acquaintance who works for MI6 visits wine merchant William French, and his Pimlico terrier, Freddie de la Hay, is drafted to serve his country. Berthea Snark's brother Terence Moongrove finds his new Porsche makes him feel amorous and is excited about water memory and morphic resonance. Caroline tries to decide whether she wants a relationship with comfortable James or exciting Tim. Barbara Ragg goes on vacation to Scotland with her new fiancé Hugh Macpherson and meets her future in-laws. Berthea Snark has to take action against a pair of charlatans out to fleece Terence. Dee lies and steals and tries to market her goods in a new way. Barbara's partner at the Ragg Porter Literary Agency betrays a trust and is caught out. Aussie flatmate Jo gives Caroline some very sound advice. There is a delightful piece on homeopathy and risotto gets a few mentions. William's feckless son Eddie berates him, with justification. And William effects a dramatic rescue. And throughout the happenings, we are treated to McCall Smith's gentle philosophy and wry humour. I found myself constantly smiling, chuckling, giggling and many occasions, laughing out loud. McCall Smith manages to examine issues in everyday life and still leave the reader feeling good and wanting more. I loved this book.
Review by Nandakishore_Varma
16/06/2015
This fell way short of my expectations, after <i>The Careful Use of Compliments</i>. The wry British humour is still there: especially the way in which he treats hallowed British institutions such as the MI6, the publishing industry etc. There are also passages which are outright funny, and will have you laughing. Consider the following gem:<br/><br/><i>Americans do not mince their words - it is one of their great qualities, and indeed one of the great causes of misunderstanding between the United States and the United Kingdom, where words are regularly minced so finely as to be virtually unintelligible.</i><br/><br/>However, the overall product is a great rambling narrative comprising the lives of a group of people living in Corduroy Mansions, London which is apt to leave one confused and a little frustrated. The novel is second of a series, but even though it is supposed to be standalone, I felt that reading of the first book is mandatory if one is to understand the characters at all: also, many plot lines are left loose, possibly to be tied up in subsequent books. It reminded me of a mildly funny sitcom in which eccentric characters come and go as they please.<br/><br/>OK for a vacation weekend read, to while away those lazy afternoons.
Also by Alexander McCall Smith | View all
Also in the Corduroy Mansions series | View all