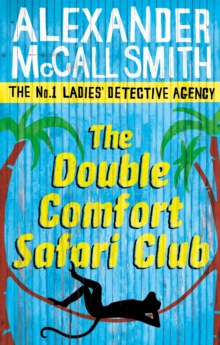 The Double Comfort Safari Club
Paperback
Description
Mma Ramotswe and Mma Makutsi are called to a safari lodge in Botswana's Okavango Delta to carry out a delicate mission on behalf of a former guest.
The Okavango makes Precious appreciate once again the beauty of her homeland: it is a paradise of teeming wildlife, majestic grasslands and sparkling water.
However, it is also home to rival safari operators, fearsome crocodiles and disgruntled hippopotamuses.
What's more, Mma Makutsi still does not have a date for her wedding to Phuti Radiphuti and is feeling rather tetchy herself.
But Precious knows that with a little patience, just as the wide river will gently make its way round any obstacle, so will everything work out for the best in the end ...
Information
Format: Paperback
Pages: 256 pages
Publisher: Little, Brown Book Group
Publication Date: 28/01/2011
ISBN: 9780349119991
Free Home Delivery
on all orders
Pick up orders
from local bookshops
Reviews
Showing 1 - 3 of 3 reviews.
Review by isabelx
16/06/2015
Mma Ramotswe herself smiled at the recollection. "I went in at the shallow end," she said. "It was not very deep, and I found that I could stand. But then I made a very interesting discovery.""That you could swim?"Mma Ramotswe shook her head. "No, I did not find that I could swim. I found, though, that I could float. I very slowly took the weight off my legs, and do you know, Mma, I floated. It was very pleasant. I did not have to move my arms-I just floated."Mma Makutsi clapped her hands. "That is very good, Mma! Well done! Perhaps it is something to do with being so traditionally built. A thin person would sink. You floated.""Possibly," said Mma Ramotswe. "But it was good to discover that I could do a sport after all."Mma Makutsi was not certain that floating could be called a sport. Was there a Botswana floating team? She thought not. What would such a team do? Would they have to float gently from one point to another, with the winner being the one who arrived first? Surely not.Mma Makutsi's fiancee Phuti ends up in hospital after being injured in an accident, and she is thwarted in her attempts to care for him by his over-protective aunt tries to keep her at arm's length. On the other hand, it was nice to see a very different part of Botswana when Mma Ramotswe and Mma Makutsi travelled to a safari camp in the Okavango Delta in search of a beneficiary to a will. But overall this isn't one of my favourite books in this series.
Review by Figgles
16/06/2015
The lives of Precious Ramotswe, her husband, friends and associates continue to follow the rythmns of the Botswanan seasons. Wisdom, humour and love help cope with tragedy and meanness. Again, more of the same, but very comforting...
Review by reading_fox
16/06/2015
Still more of the same. Charming, as ever. I appear to have missed the last couple in the series, but this hasn't made much difference. Mma Ramotswe's secretary has a bad few days as her finacee is in hospital following an accident. But even having his foot amputated doesn't seem overwhelmingly hard to cope with. Meanwhiel the detective agency putters on as usual. Some good news to distribute requires a lengthy trip up to the game parks, but no stories of lions or crocodiles will daunt our two traditionally built ladies - even if their canoe is very close to the waterline! The garage doens't feature very much this time around, the children even less so.Pleasant reading for sunny days, in a country where everybody (even the melon headed ones) still regards the traditional approaches as important.
Also by Alexander McCall Smith | View all
Also in the No. 1 Ladies' Detective Agency series | View all