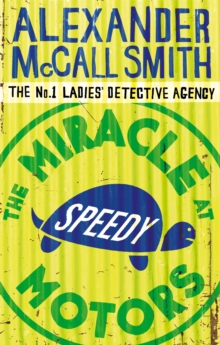 The Miracle at Speedy Motors
Paperback
Description
It has never occurred to Precious Ramotswe that there might be disadvantages to being the best-known lady detective in Botswana.
But when she receives a threatening anonymous letter, she is compelled to reconsider her unconquerable belief in a kind world and good neighbours.
While she ponders the identity of the letter-writer Mma Ramotswe has a further set of problems to solve, both professional and personal.
There is an adopted child's poignant search for her true family, and Mr J.
L. B. Matekoni's pursuit of an expensive miracle for their own foster daughter Motholeli.
With these latest developments on Tlokweng Road, Alexander McCall Smith reveals with all his brilliant storytelling skill that there are very few troubles that cannot be solved with kindness, and very few dry seasons that do not end with welcome rain.
Information
Format: Paperback
Pages: 256 pages
Publisher: Little, Brown Book Group
Publication Date: 08/01/2009
ISBN: 9780349119953
Free Home Delivery
on all orders
Pick up orders
from local bookshops
Reviews
Showing 1 - 2 of 2 reviews.
Review by reading_fox
16/06/2015
Same chram as the others really. A number of cross grained cases almost overwhelm Mma Ramotswe's ability to cope, but a trip out to her roots enables her to decide on various courses of action. Even if following through on them isn't quit so easy.Annoyingly rather than in previous cases where Mma Ramotswe has taken some pains to be at least slightly deductive here she suddenly starts being all intuative - often wrongly. And while it's important to remember that everyone deos make mistakes, the theme is harped on a bit.Overall though it's still the same gentle engaging enjoyable writing about people who love their country and are only human. If you've liked the others you'll like this too.
Review by isabelx
16/06/2015
The apprentice, standing beside her, suddenly tugged excitedly at the sleeve of her dress. 'Look, Mma Ramotswe! Look!'She looked in the direction in which he was pointing and immediately saw what he had seen. Flying ants. Suddenly, unexpectedly, the air was filling with flying ants, rising up from their secret burrows in the rain-softened ground, gaining altitude on beating wings, dipping down again. It was a familiar sight following the rains, one of those sights that took one back to childhood no matter what age one was, and brought to mind memories of chasing these ants, grabbing them from the air, and then eating them, for their peanut-butter taste and crunchiness.'Go and catch some,' she said to the apprentice.He handed her the spanner he was holding and rushed out in the last few drops of rain to snatch at the termites, a boy again. He caught some easily, and de-winged them before stuffing them into his mouth. Above him there were other, hungrier dangers for the ants; a flock of swifts, materialising from nowhere, had swept in and were dipping and swooping over their aerial feast. The apprentice looked up at the birds and watched them, and smiled; and she smiled back. What does it matter, she thought, if businesses are left unattended, if people are not always as we want them to be; we need the time just to be human, to enjoy something like this: a boy chasing ants, a dry land drinking at last, birds in the sky, a rainbow.I enjoyed the ninth No. 1 Ladies' Detective Agency novel, which was mainly about family relationships. I love the descriptions of Botswana and its people, and my absolutely favourite thing is how the characters say 'late' instead of 'dead'. Mme Makutsi's uncle's decision about how many cows to ask for her dowry was amusing too!
Also by Alexander McCall Smith | View all