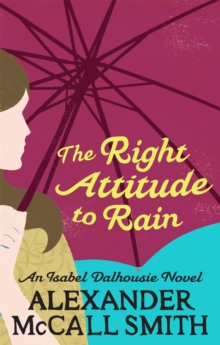 The Right Attitude to Rain : An Isabel Dalhousie Novel
Paperback
Description
The key to contentment in the Scottish climate is the right attitude to rain - just as in life the key to happiness lies in making the best of what you have. Bruised in love by her faithless Irish husband, Isabel Dalhousie is a connoisseur of intimate moral issues: she edits a philosophical journal and spends a great deal of her time considering how to improve the lives of those around her.
There is her housekeeper Grace, whose future she must secure; her niece Cat, who is embarking on a new relationship with a dubious workaholic mummy's boy; and even an American couple newly arrived in Edinburgh on a tour. And then there is Jamie, Cat's ex-boyfriend, a handsome, gifted musician fourteen years Isabel's junior, with whom she is slowly and hopelessly falling in love. Intensely thoughtful and consistently entertaining, THE RIGHT ATTITUDE TO RAIN is shot through with compassion and unassuming intelligence.
Information
Format: Paperback
Pages: 336 pages
Publisher: Little, Brown Book Group
Publication Date: 30/07/2007
ISBN: 9780349118055
Free Home Delivery
on all orders
Pick up orders
from local bookshops
Reviews
Showing 1 - 4 of 4 reviews.
Review by Lman
16/06/2015
This instalment of Isabel Dalhousie's life and loves is an utter delight – revealing depths to Isabel's feelings and character even more than the previous books. Instead of learning about our main protagonist from her thoughts and contemplations, and through her associations with others, we are now offered a full, profound realisation of Isabel herself. It is June in Edinburgh and, besides her editing of <i>The Review of Applied Ethics</i>, and the difficulties self-imposed with this, Isabel has her sunny days filled with procuring an apartment for Grace, her housekeeper; a month-long visit from her much-loved American cousin Mimi; and her burgeoning awareness, and acknowledgement, of her feelings for Jamie. And still with time to speculate, and meddle, in the affairs of an American couple staying for the summer in Edinburgh.<i>The Right Attitude to Rain</i> thus offers a more fleshed-out story of former anecdotes, especially some only briefly alluded to in the past books. Isabel's history, and her mother's; her relationship with Grace, her responsibilities, her desires, her needs and her dreams are given more substance, along with a release from the anguish of her earlier hurt. And this release is possible as Isabel, along with everyone around her, recognises her developing intimacy with her younger man. The reactions and responses this elicits provide a great deal of laughs, much soul-searching from within, a large dose of jealousy from other women and at times, a degree of poignancy that bites deeply. For Isabel is in love; and her musings and her reflections, her attitudes and her actions – all these are forthwith coloured and, at times, controlled by this unexpected state of bliss.Alexander McCall Smith, in my opinion, with the use of simple words and basic stories, offers an intimate, complex illustration of the possibilities of life which surrounds him everyday. With small anecdotes he delivers thought-provoking ideas, with the use of common examples he entertains complicated scenarios; and with gentle persuasion he allows intelligent, sympathetic, but perceptive, observations of humankind. Did I mention utterly delightful? What about the twist at the end? That's the only mystery in this book – where will he take Isabel with this? That I eagerly anticipate!
Review by isabelx
16/06/2015
The main character is so irritating! It's okay for her to be independently wealthy with an income from her dead mother's family business, but woe betide anyone else who dares to show the slightest interest in money. Artists, musicians, academics and Bohemian delicatessen owners are okay, but lawyers are beyond the pale, even though her own father was a lawyer.But I'm still going to read the fourth book in the series when I get my hands on a copy.
Review by Vivl
16/06/2015
Very enjoyable. This is the only Alexander McCall Smith series I've read and the start wasn't auspicious, mostly because when I picked up the first book I expected a traditional mystery story and didn't get one. I wasn't planning on reading further, especially as I also found Isabel Dalhousie's moralising to be rather tiresome, but by some quirk of fate ended up having a go at the second book, <i>Friends, Lovers, Chocolate</i> and falling for the series.<br/><br/>This is more of the same, but with some very welcome changes in attitude, which I won't go into as I feel as though they would be too spoiler-ish. As usual, some mysterious-ish stuff is going on, but it isn't really the focus and isn't really "solved". This no longer worries me at all, as I enjoy the slow-paced wander through Edinburgh and philosophy.
Review by GeoffSC
16/06/2015
Enjoyable light read putting one in the usual selection on philosophical dilemas.
Also by Alexander McCall Smith | View all
Also in the Isabel Dalhousie Novels series | View all