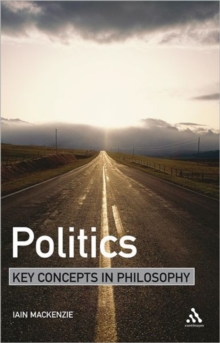 Description
"Key Concepts in Philosophy" is a series of concise, accessible and engaging introductions to the core ideas and subjects encountered in the study of philosophy.
Specially written to meet the needs of students and those with an interest in, but little prior knowledge of, philosophy, these books open up fascinating, yet sometimes difficult ideas.
The series builds to give a solid grounding in philosophy and each book is also ideal as a companion to further study.
Philosophy underpins political concepts, ideals and debates.
The extent and nature of our rights, liberties and responsibilities, the role of the state and the best means of its governance are all questions to have been addressed by great philosophers throughout history - and questions students of political philosophy must engage with. "Politics: Key Concepts in Philosophy" offers a thorough, lucid and stimulating account of the central theories and ideas encountered in political philosophy.
The text is thematically structured, covering the discipline's principal ideologies: Statism; Realism; Liberalism; Conservatism; Socialism; Anarchism; and Environmentalism. It also offers a brief history of political philosophy and the major political philosophers, including Plato, Aristotle, Locke, Rousseau, Hobbes, Marx and Rawls, and, valuably, concludes with a look at 'applied' political philosophy, relating the discipline to contemporary political situations and questions.
Philosophy undergraduates will find this an invaluable aid to study, one that goes beyond simple definitions and summaries to open up a new and stimulating range of ideas.
Information
Format: Hardback
Pages: 192 pages
Publisher: Bloomsbury Publishing PLC
Publication Date: 24/05/2009
Category: Political science & theory
ISBN: 9780826487940
Other Formats
Paperback / softback from £13.29
Also in the Key Concepts in Philosophy series | View all