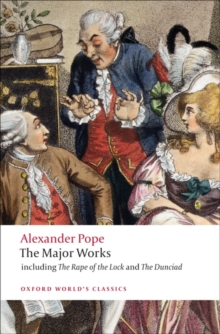 The Major Works
Paperback
Description
This authoritative edition was first published in the acclaimed Oxford Authors series under the general editorship of Frank Kermode. It brings together a unique combination of Pope's poetry and prose - the major poems in their entirety, together with translations, criticism, letters and other prose - to give the essence of his work and thinking.
Pope has often been termed the first truly professional poet in English, whose dealings with the book trade helped to produce the literary market-place of the nineteenth and twentieth centuries. In this representative selection of Pope's most important work, the texts are presented in chronological sequence so that the Moral Essays and Imitations of Horace are restored to their original position in his career. The Dunciad, The Rape of the Lock, and Peri Bathous are presented in full, together with a characteristic sample of Pope's prose, including satires, pamphlets, and periodical writing. The influential preface to his edition of Shakespeare is here, as well as passages from his conversations with Joseph Spence and examples of his wide-ranging correspondence. This fine edition features a comprehensive biographical index, as well as an introduction and invaluable notes.
ABOUT THE SERIES: For over 100 years Oxford World's Classics has made available the widest range of literature from around the globe.
Each affordable volume reflects Oxford's commitment to scholarship, providing the most accurate text plus a wealth of other valuable features, including expert introductions by leading authorities, helpful notes to clarify the text, up-to-date bibliographies for further study, and much more.
Information
Format: Paperback
Pages: 768 pages, one map
Publisher: Oxford University Press
Publication Date: 09/10/2008
Category: Poetry by individual poets
ISBN: 9780199537617
Free Home Delivery
on all orders
Pick up orders
from local bookshops
Reviews
Showing 1 - 1 of 1 reviews.
Review by PJWetzel
16/06/2015
Who am I to pass judgment on an author who, according to the Oxford Dictionary of Quotations is the third most quoted figure in human history (after Shakespeare and Tennyson)? Who am I but an unappreciative boor? Well, I'm a generally educated reader who invested several weeks of reading time to explore the man and his writing—no more, no less. Judge the merit of my comments for yourself, based on my body of reviews.I had managed to unhappily wade through this entire book until I started trying to read the last included work: The Dunciad, which is a satire (I think), and is, more to the point, Pope's attempt to settle the score with every critic and foe he ever encountered. What a sad, pathetic subject for a crowning life work! What a sorry personality he must have been to have chosen such a motive to drive him. I literally could not read more. There is a class of people who I can't stand, and he's a prime example of them—people who seek to entangle themselves with others (get in other people's faces) for the sole purpose of giving their empty lives some desperate sense of meaning. They see no more pressing purpose to life than to derive energy from the process of bickering and quibbling—the ebb and flow of 'reputation' and 'appearance', of 'status' and 'opinion'. This is so alien to my own sensibilities that I simply had to put the book on the shelf without finishing it.Frankly, it's the first book I ever wanted to burn. I felt like ripping the offending pages out, spitting on them, trampling them under foot, and eviscerating each printed word. Pope attracted me because of a few selected quotes that have become immortal. The quotes are fine—taken out of context. But the mind that produced them is undeserving. I can only imagine that the world in which he lived was so lacking in true talent that his ability to find favor in high places vaulted him into that vacuum. And in 54 years of life he managed to accidentally vomit out a few memorable phrases amid volumes of tripe. A monkey at a keyboard could scarcely do worse.No, I'm being excessively dramatic. It's my anger at the Dunciad that is driving this. I did enjoy a few selected works—when he chose subjects of a bit more substance (still perilously abstract for modern tastes). I enjoyed his lyrical rendering of a comparison of virtue and vice in his 'Epilogue to the Satires: Dialogue 1' (page 399). But really—to wade through 737 pages to find a few pages worth reading? I wish I hadn't.
Also in the Oxford World's Classics series | View all