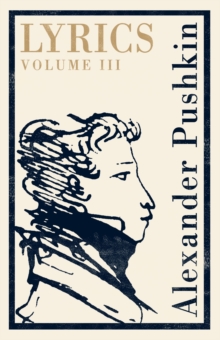 Lyrics: Volume 3 (1824-29)
Paperback / softback
Description
The pioneer of modern Russian literature, Alexander Pushkin has exerted - through his novel in verse Eugene Onegin, his plays, his short stories and his narrative poetry - a lasting influence well beyond the borders of his motherland.
A slightly lesser-known, but by no means less important aspect of his writing is his vast production of shorter verse, a genre at which he excelled and arguably still remains unsurpassed. This volume, part of Alma's series of the complete poetic works of Alexander Pushkin, collects the poems Pushkin wrote in his mid-to-late twenties, during his exile in Mikhaylovskoye and his subsequent return to metropolitan life. It includes some of his lyrical masterpieces, such as 'To Anna Kern' and 'I Loved You...' - arguably the two most famous love poems in the Russian language - 'To the Sea', 'Andre Chenier', 'The Prophet', 'Stanzas Addressed to Nicholas I', 'Deep in Siberian Mines', 'Arion', 'An Angel', 'The Talisman', 'Remembrance', 'A Flower' and 'Anchar, Tree of Poison', each presented in a verse translation opposite the original Russian text.
Enriched with notes, pictures and an appendix on Pushkin's life and works, this will be essential reading for anyone wishing to explore the Russian bard's genius.
Information
Format:Paperback / softback
Pages:448 pages
Publisher:Alma Books Ltd
Publication Date:26/08/2020
Category:
ISBN:9781847497338