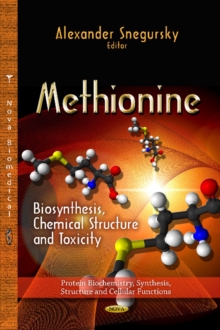 Methionine : Biosynthesis, Chemical Structure & Toxicity
Hardback
Description
This book is dedicated to a very specific and interesting molecule/substance, Methionine.
Methionine belongs to the -amino acid group and as one of the essential amino acids, Methionine is classified as non-polar and one of two sulphur-containing proteinogenic amino acids.
This substance is an intermediate in the biosynthesis of phospholipids, (ie: carnitine, cysteine, lecithin, phosphatidylcholine, taurine, and others).
It is also being utilised by plants in synthesising ethylene.
Methionine is one of only two amino acids encoded by a single codon (AUG) in the standard genetic code, therefore, it is incorporated into the N-terminal position of all proteins in eukaryotes and archaea during translation, although it is usually removed by post-translational modification.
This book deals with the analysis of the most up-to-date data on Methionine properties related to its biosynthesis, electronic structure and toxicity issues.
This book would be useful for students, post-graduates and scientists working in the field of studying amino acids, as one of the most prominent members of the family of molecules of biological relevance, tracing their basic properties and analysing their practical applications in the field of pharmaceutics, medicine and molecular physics.
Information
Format: Hardback
Pages: 191 pages
Publisher: Nova Science Publishers Inc
Publication Date: 17/05/2013
Category: Proteins
ISBN: 9781626182462
Free Home Delivery
on all orders
Pick up orders
from local bookshops