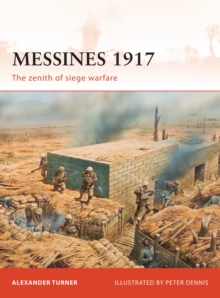 Messines 1917 : The Zenith of Siege Warfare
Paperback / softback
Part of the Campaign series
Description
At 0310 hours on 7 June 1917, the pre-dawn gloom on the Western Front was shattered by the 'pillars of fire' - the rapid detonation of 19 huge mines, secreted in tunnels under the German lines and containing 450 tonnes of explosives.
Admitted by the Germans to be a 'masterstroke', the devastating blasts caused 10,000 soldiers to later be posted simply as 'missing'.
Launching a pre-planned attack into the carnage, supported by tanks and a devastating artillery barrage, the British took the strategic objective of Messines Ridge within hours.
A rare example of innovation and success in the First World War, this book is a fresh and timely examination of a fascinating campaign.
Information
Format: Paperback / softback
Pages: 96 pages, Illustrations (some col.)
Publisher: Bloomsbury Publishing PLC
Publication Date: 10/08/2010
Category: European history
ISBN: 9781846038457