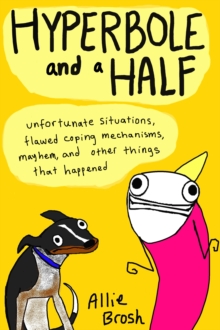 Hyperbole and a Half : Unfortunate Situations, Flawed Coping Mechanisms, Mayhem, and Other Things That Happened
Paperback
Description
Hilarious stories about life's mishaps from the creator of the immensely popular blog 'Hyperbole and a Half'.
Fully illustrated with over 50% new material. Hyperbole and A Half is a blog written by a 20-something American girl called Allie Brosh.
She tells fantastically funny, wise stories about the mishaps of her everyday life, with titles like 'Why Dogs Don't Understand Basic Concepts Like Moving' and 'The God of Cake'.
She accompanies these with naive drawings using Paint on her PC.
Brosh's website receives millions of visitors a month and hundreds of thousands per day.
Now her full-colour debut book chronicles the many "learning experiences" Brosh has endured as a result of her own character flaws.
It includes stories about her rambunctious childhood; the highs and mostly lows of owning a mentally challenged dog; and a moving and darkly comic account of her struggles with depression.
Poignant and uproarious - think Cyanide and Happiness but with story-lines, cake and dogs.
Information
Format: Paperback
Pages: 384 pages, Colour throughout
Publisher: Vintage Publishing
Publication Date: 31/10/2013
Category: Anthologies (non-poetry)
ISBN: 9780224095372
Free Home Delivery
on all orders
Pick up orders
from local bookshops
Reviews
Showing 1 - 2 of 2 reviews.
Review by VW_Williams
16/06/2015
I was really looking forward to reading this one - I'd been introduced to Brosh's blog last year, and found it a wonderful mixture of laugh-out-loud humour and thoughtful, admirably plain-speaking reflections on life, personality and mental health. For one reason or another, however, it feels like transplanting the stories to a book has somehow upset the balance. The funny stories are still funny - I really did belly laugh several times while reading them - and Brosh's writing on depression and her dead fish metaphor still work perfectly and are as brilliant and affecting as ever. However the other stories - the more Brosh-centric examinations-of-personality ones especially, felt more laboured. I didn't feel like they went beyond the personal; dare I say they became a bit indulgent. Where her writing on depression lays things bare, the chapters on identity come off as uneven attempts at honesty, overlaid with confessions to being 'full of shit'. The flow-charts and drawings of Eric, her psychic security guard, feel a bit like glib game-playing. I sensed that style was coming before substance in these pieces, and the effort to make everything fit her cartoony, kooky, humorous style was wearing a bit thin. More often than not I found that the varying tones of the chapters jarred with each other. This wouldn't be a problem if you were reading a blog an update at time, with perhaps days or weeks between them. But the experience of reading the book was uneven, and I felt that more attention could have been paid to the selection and sequencing of the stories. There's certainly a great deal of fun and poignancy in this book - in fact it's worth reading for the dog stories alone - but I was left feeling as though it didn't quite add up to the sum of its parts.
Review by TPauSilver
16/06/2015
Hyperbole and a half is a collection of posts from the blog by the same name with a few extras thrown in. Normally this wouldn't be much of a selling point but with a blog as iconic, hilarious and oddly poignant as this one it really is. This book delivers well on all those topics, combining a lot of the best of the blog posts (including the iconic coping with adulthood comic which includes the 'do all the things' image you will most likely be familiar with from every meme ever) with some good new material. Apart from the fact that it's funny and that everyone loves simple dog - the main reason to look into this book (or read the blog) is her talking about her experience of depression. It managed to be both funny and poignant and instantly relateable to anyone who's ever faced depression themselves.