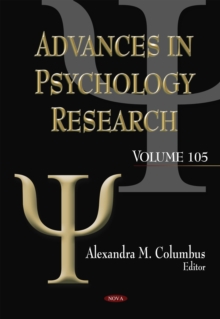 Advances in Psychology Research : Volume 105
Hardback
Description
This continuing series presents original research results on the leading edge of psychology.
Each article has been carefully selected in an attempt to present substantial results across a broad spectrum.
This book shines light on the darker aspects of personality; personality-informed psychosis interventions; overcoming biases against people with mental illness and offenders with mental illness; the comparisons of psychological well-being, suicidal ideation, using alcohol, and coping strategies between nursing students and business students in the United States; personality change and problem behaviour; the concentric interactive psychotherapy group; cognitive flexibility, worry, and generalised anxiety disorder symptoms; relations among sadness, pain, social support and college students' health; the responsiveness of negative cognitive content to an induced negative mood state in those with and without a previous history of depression; health and gender medicine from a psychosocial perspective; another perspective for discussing students' understanding of mathematics; and stress among engineering students.
Information
Format: Hardback
Pages: 209 pages
Publisher: Nova Science Publishers Inc
Publication Date: 01/06/2015
Category: Psychology
ISBN: 9781634824576