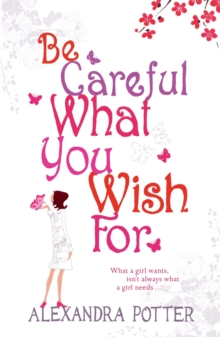 Be Careful What You Wish for
Paperback
Description
'I wish I could get a seat on the tube... I hadn't eaten that entire bag of Maltesers... I could meet a man whose hobbies include washing up and monogamy...'Heather Hamilton is always wishing for things.
Not just big stuff - like world peace or for a date with Brad Pitt - but little, everyday wishes, made without thinking.
With her luck, she knows they'll never come true...Until one day she buys some heather from a gypsy.
Suddenly the bad hair days stop; a handsome American answers her ad for a housemate; and she starts seeing James - The Perfect Man who sends her flowers, excels in the bedroom, and isn't afraid to say 'I love you'...
But are these wishes-come-true a blessing or a curse? And is there such a thing as too much foreplay?
Information
Format: Paperback
Pages: 368 pages, None
Publisher: Hodder & Stoughton General Division
Publication Date: 01/01/2006
ISBN: 9780340841129
Free Home Delivery
on all orders
Pick up orders
from local bookshops
Reviews
Showing 1 - 4 of 4 reviews.
Review by risadabomb
16/06/2015
The storyline is very entertaining. It is a light read but extremely addictive.
Review by Cauterize
16/06/2015
A paint-by-numbers ChickLit book.Heather is constantly making wishes in her head. She can't help it, and so far it has done nothing to improve her drab life as an assistant to a wedding photographer in London nor her non-existent love life. A gypsy on the street gives her a lucky heather sprig, and all of a sudden it seems that all her wishes come true. She gets impossible parking spots, the last pair of shoes in her size at a sample sale, her crush on her hot lawyer neighbour is reciprocated, and she finds an attractive American flatmate who becomes a good guy friend.Obviously, this is a story about getting exactly what Heather wishes for is wrong and going to make her realize what she really needs to make her happy. I don't think that's giving away a spoiler – just reading the cover blurb should clue you in that this is where the story is going to go – and this inability to innovate makes this book really mediocre. This story has been done a million times before, it's a cliché. I kept hoping that plot was going to move in a direction that I didn't expect, but it never did.
Review by AnneBrooke
16/06/2015
I surprised myself by loving this one. After all, who hasn't wondered what would happen if all their dreams came true? Here, Heather finds out how everything that glitters most surely isn't gold, and her journey of self-discovery is both light-hearted and occasionally thoughtful - a combination I very much enjoyed.I also thought the scenes involving her dangerously-ill beloved father were just soul-punchingly good, and Potter must be recommended for describing so realistically what the dread of someone you love dying is like. I actually had to put the book down for a while and go away as I was crying so much - even though I knew in the end all would be well.Maybe the ending is just a little too perfect, but heck I'm not complaining, and I'm glad Heather found the life that was right for her. Good stuff.
Review by SaraRomanceLove
16/06/2015
Ok, I give up. It's official, I don't like Alexandra Potter as an author. She has great ideas as plots go, but then the delivery is awful. This book was no different.<br/>It was slow paced; it took a while for me to get into it, and loads of will power not to quit it altogether. I had to skip-read a bit towards the end, when a useless and page-wasting family tragedy takes place, in order to finish the book.<br/>The general feeling I got from this book was meh.<br/>There are also three general line of writing that I've read too many times and that are really starting to annoy me:<br/>1.Heroin sees guy with a gorgeous girl, she misunderstand her for his girlfriend, and it turns out she actually is the sister.<br/>2.The oh-too-perfect-man – Please stop the madness.<br/>3.Stand-up comedy, why? <br/>I think I'll start some discussions about these three point because it's becoming annoying to have to read them over and over again, I want to see if I'm the only one.<br/>