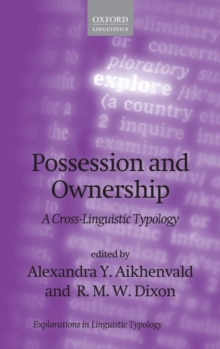 Possession and Ownership
Hardback
Description
Possession and Ownership brings together linguists and anthropologists in a series of cross-linguistic explorations of expressions used to denote possession and ownership, concepts central to most if not all the varied cultures and ideologies of humankind.
Possessive noun phrases can be broadly divided into three categories - ownership of property, whole-part relations (such as body and plant parts), and blood and affinal kinship relations.
As ProfessorAikhenvald shows in her extensive opening essay, the same possessive noun or pronoun phrase is used in English and in many other Indo-European languages to express possession of all three kinds - as in "Ann and her husband Henry live in the castle Henry's father built with his own hands" - but that this is by nomeans the case in all languages.
In some, for example, the grammar expresses the inalienability of consanguineal kinship and sometimes also of sacred or treasured objects.
Furthermore the degree to which possession and ownership are conceived as the same (when possession is 100% of the law) differs from one society to another, and this may be reflected in their linguistic expression.
Like others in the series this pioneering book will be welcomed equally by linguists andanthropologists.
Free Home Delivery
on all orders
Pick up orders
from local bookshops
Also in the Explorations in Linguistic Typology series | View all