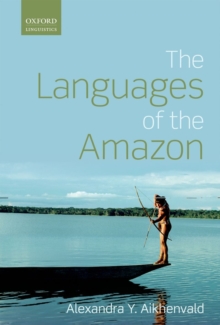 The Languages of the Amazon
Hardback
Description
This is the first guide and introduction to the extraordinary range of languages in Amazonia, which include some of the most the most fascinating in the world and many of which are now teetering on the edge of extinction.
Alexandra Aikhenvald, one of the world's leading experts on the region, provides an account of the more than 300 languages, comparing their common and unique features, setting out their main characteristics, and describing the histories andcultures of the people who speak them.
The languages abound in rare features and in most cases have been in contact with each other for generations, giving rise to complex patterns of linguistic influence.
The author draws on her own extensive field research to tease out and analyse the patterns of theirgenetic and structural diversity.
In the process she shows how they reflect the interrelations of language and culture: different kinship systems, for example, produce different linguistic outcomes.
She also explains the roles and workings of their unusual features including evidentials, tones and whistles, and elaborate positional verbs.
The book ends with a glossary of terms, and a comprehensive list of references for those interested in following up a language or linguistic phenomenon. Alexandra Aikhenvald's fascinating book is aimed at a wide readership, including linguists and anthropologists.
It is unburdened by esoteric terminology, written in her characteristically straightforward style, and brought vividly to life with numerous anaecdotes of her experience in the region.
It may be used as reference for research and as an introduction for courses in Latin American studies, Amazonian studies, linguistic typology, and general linguistics.
Information
Format: Hardback
Pages: 550 pages, Maps, Tables, Figures
Publisher: Oxford University Press
Publication Date: 15/05/2012
Category: Philosophy of language
ISBN: 9780199593569
Free Home Delivery
on all orders
Pick up orders
from local bookshops