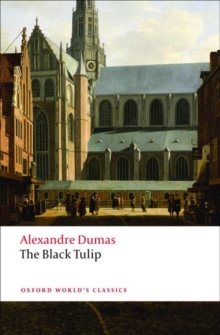 The Black Tulip
Paperback
Description
Alexandre Dumas's novels are notable for their suspense and excitement, their foul deeds, hairsbreadth escapes, and glorious victories.
In The Black Tulip (1850), the shortest of Dumas's most famous tales, the real hero is no Musketeer, but a flower.
The novel - a deceptively simple story - is set in Holland in 1672, and weaves the historical events surrounding the brutal murder of John de Witte and his brother Cornelius into a tale of romantic love.
The novel is also a timeless political allegory in which Dumas, drawing on the violence and crimes of history, makes his case against tyranny and puts all his energies into creating a symbol of justice and tolerance: the fateful tulipa negra.
This new edition reprints the first, classic English translation.
David Coward sets the novel in the context of its author's life, the turbulent history of the Dutch Republic, and the amazing 'tulipmania' of the seventeenth century which brought wealth to some and ruin to many.
ABOUT THE SERIES: For over 100 years Oxford World's Classics has made available the widest range of literature from around the globe. Each affordable volume reflects Oxford's commitment to scholarship, providing the most accurate text plus a wealth of other valuable features, including expert introductions by leading authorities, helpful notes to clarify the text, up-to-date bibliographies for further study, and much more.
Information
Format: Paperback
Pages: 288 pages
Publisher: Oxford University Press
Publication Date: 01/04/2008
Category: Literary essays
ISBN: 9780199540464
Other Formats
Paperback from £5.50
Paperback / softback from £6.99
PDF from £3.61
EPUB from £3.61
Hardback from £14.99
Free Home Delivery
on all orders
Pick up orders
from local bookshops
Reviews
Showing 1 - 5 of 5 reviews.
Review by hannahj26
16/06/2015
this is my favorite book that I've read as an adult. Taking place in Holland during "tulipmania", it is a captivating story about a young aristocrat who's only love in life is growing tulips and chasing the elusive Black Tulip. When he is thrown in prison he is befriended by the jailer's daughter. This story is suspenseful and beautifully written. The drama and excitement is difficult to turn away from until you've finished reading entire thing. The first chapter is a little dry but I still LOVE LOVE LOVE this book and would encourage anyone to read it!
Review by ayas
16/06/2015
I like this story. there are a lot of scene I could sympathize. This not only be a love story but also excited me. It was interesting to be think about boyh yhe whereabouts of the black tulip and the whereabouts of love.
Review by helen295
16/06/2015
Who would have thought that a book about growing tulips could be so exciting? And yet Alexandre Dumas managed to write a compelling page turner based on that very subject. Dumas became one of my favourite authors a few years ago when I read The Count of Monte Cristo and The Three Musketeers but I had not read any of his lesser-known works until now. I regret not reading The Black Tulip sooner because I enjoyed it almost as much as the two books I've just mentioned. The book is set in seventeenth century Holland and begins with the violent murders of John and Cornelius De Witt, suspected of conspiring against the young <i>Stadtholder</i>, William of Orange. Our hero is the fictional godson of Cornelius De Witt, who is also called Cornelius. Cornelius Van Baerle is a keen tulip-fancier whose biggest goal in life is to produce the world's first black tulip. However, Van Baerle is not the only tulip-grower in the race for the Grand Black Tulip – and his rival Isaac Boxtel will stop at nothing to get there first!The first few chapters put the novel in historical context and will be slightly challenging to anyone like myself, who doesn't have much knowledge of Dutch history, but if you read carefully and refer to the notes it's easy enough to follow. As soon as Dumas finishes setting the scene, the story explodes into action and never stops until the final page, taking us on a journey through the full range of human emotions – love, hatred, greed, loyalty, jealousy and obsession. Rosa, the only female character in the book, is a jailer's daughter who falls in love with Cornelius and finds herself having to compete with the tulip for his affections. Despite making a few remarks of the "I am but a woman" variety she is otherwise a strong and quick-thinking character who does what she knows is right, even if it means going against the wishes of Cornelius or her father. The starring role in the story, though, goes to the elusive black tulip itself.As you might have guessed, I really loved this book. If you enjoyed The Count of Monte Cristo there's a good chance that you'll like this one too, as it's very similar in writing style, pace and even several plot elements. It could almost be described as a shorter, less epic, less complex version of The Count. Highly recommended.
Review by booksandwine
16/06/2015
Y'all I am an Alexandre Dumas fan girl. If I could resurrect him and make him be my writer boyfriend, I totally would (sorry boo!). Last summer I read the unabridged Count of Monte Cristo translated by Robin Buss* over a period of two weeks. I am a generally fast reader, especially when I have few work hours, however, I really wanted to savor the experience. Dumas is a high calibre writer, his stories are swashbuckling, exciting, and often tinged with romance. Basically it has everything I could ask for out of a book.The Black Tulip begins with political strife. Two brothers in Holland are murdered by the people because of their correspondance with this French guy. How nutty. The crazy definitely hooked me. We then go on to meet Cornelius who is the godson of one of the brothers. He's in his 20s, he's rich and obsessed with tulips. Yes, that's right, flowers. I guess in the 1670s flowers were all the rage, kind of like yachts for rich people. People were just mad about tulips in Holland. Jealousy leads to some CoMC-esque actions, oh hai Albert nice to see you here. However, this book departs from the CoMC formula. Friends, I was enraptured. Although this book did not have the girth of CoMC, it has that compulsive readability where I absolutely needed to know what would happen. Often, Dumas would make asides to the reader, which I love, love love because it really felt as though there was someone sitting there telling a story to me.There is a female lead, Rosa, who exhibits courage and a cool head. She's the one who tells her father and Cornelius exactly what they need to do to be safe. However, she's also given the attribute of purity, which I feel must have been a pre-requisite of her time. Seeing as how she is smart and hot and her milkshake brings the boys to the yard, she needs to be pure too.One thing I picked up on was socioeconomic status -- it seems like the poor were portrayed as ignorant, bloodthirsty nuts. I feel the message I come across in Dumas's books is that only through money are people happy. Now, I've only read two Dumas books, so this is definitely a leap to conclusions, but I think Dumas tends to portray the wealthy as having more virtue than the poor. Granted, yes he inserts some rude wealthy people. The poor virtous person is often rewarded for their virtue with vast amounts of money. Perhaps this was normal for literature of the time, but I'm no expert on classics, so I can't say that for certain.The Black Tulip made me want to abandon my reading commitments and kick back with the rest of Dumas's catalouge. Alas, that is not in my stars for awhile.
Review by ReadThisNotThat
16/06/2015
I would recommend buying this book *now* while it's still free. It would certainly be worth the $1.99 list price, but free is even better. If you've read any of Dumas' other novels you'll probably like this one. It begins rather slowly and without drama but the intensity quickly builds as does the intrigue and violence. Writing reviews about mysteries is challenging because I don't want to give too much away but I do want to encourage fans of Dumas' other works, Edgar Allan Poe's short stories, and those who just enjoy period literature to read this book because it really is a good one. The characters are lively and there is even a strong secondary female character. Dumas' writing, while not overly emotional in and of itself, definitely provokes emotion in defense of his strong characters. The villian is repulsive and unlikeable while the soon to be identified hero is awkwardly charming and by turns wiley. I thoroughly enjoyed reading this book, but in the spirit of full disclosure I was an English major that primarily dealt with British literature so perhaps that's why I enjoyed this book so much. For non-English majors this book might be too stilted or old timey but for anyone who enjoys mysteries, suspense, or gardening this book is a great freebie to download.
Also in the Oxford World's Classics series | View all